$3bn projects looks to upgrade energy across three US states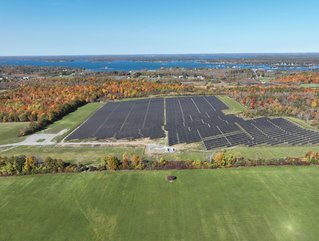 Pennsylvania, West Virginia and Ohio all look to benefit from the Chrysalis Energy-led partnership that uses solar, wind and hydrogen energy sources
A major new $3bn project has been inaugurated by Chrysalis Energy which will upgrade energy sources across Pennsylvania, Ohio and West Virginia. Could you please lay down the details of this massive undertaking?
Chrysalis Energy is a joint venture between energy transition solutions platform, OYA Renewables and Appalachian energy company Oil Well Shares.
The first-of-its-kind partnership enables the development, construction, and operation of over three gigawatts (GW) of renewable energy assets across 1.5 million acres of mainly contiguous, rights-owned land within Pennsylvania, Ohio, and West Virginia. The clean energy assets that will be developed as part of the JV are expected to include utility-scale solar, wind, and energy storage infrastructure as well as green hydrogen production facilities.
What is the timeline on this undertaking?
The initial phase of the development program is expected to be completed by 2030 and subsequent energy transition infrastructure development will likely carry on across the region.
Chrysalis Energy brings together two companies, OYA Renewables and Oil Well Shares. Can you describe the dynamic between the two companies? What does each offer the deal?
OYA Renewables is a leading solar and renewable energy producer in North America that was founded in 2009. Its focus is on the expansion of renewable energy and the integration of various clean technologies that enable economic and environmental advancement for underserved communities.
Oil Well Shares is a leading Appalachian energy company that has completed and produced thousands of wells in the US, and across Appalachia for over 100 years. The OWS team has very deep knowledge of the region and expertise in energy production. It brings to the partnership what is likely the single largest private land inventory in PJM, comprising 1/1000th of the entire continental US acreage.

Together under the joint venture, OYA and OWS will jointly develop, construct, own, and operate the portfolio of clean energy assets across OWS's current land inventory.
Both organizations are very committed to regional prosperity and to working with existing companies and infrastructure in surrounding communities throughout the development and construction lifecycles.
In what tangible ways will this project improve the quality of life of local residents?
Nationally, the joint venture accelerates the US's clean energy transition goals. On a regional level, it will aim to improve the quality of life for local residents in several ways: by strengthening and bringing down costs of community energy supplies, moving them towards accessible, renewable sources; by creating regional prosperity through providing local jobs across engineering, project construction, development, operations, and management roles; by prioritising working with existing companies and infrastructure throughout the development lifecycles.
Are there any other projects on the horizon for Chrysalis? If so, what are they?
With the Chrysalis partnership newly formed, the project is in early days. The team is committed to a long-term investment in the PJM region, and continues to seek opportunities to add value with renewable energy solutions across emerging solar, wind, energy storage, and green hydrogen technologies.