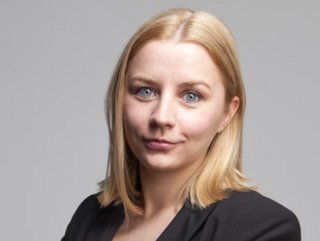 Marie-Hélène Westholm-Knebel, Sustainability Manager at ABB Process Automation
Sustainability Magazine looks at some of the technologies that are spurring the growth of the circular economy
To the environmentally minded, are there any two more evil words in the English language than 'fossil fuels'? They bear the brunt of the blame when we think about global warming. Still, the fact remains that they remain and they are not going anywhere. As one manager of a fossil fuel company put it: "We need to be realistic. The energy transition is not going to happen overnight; it is an evolution, not a revolution."
The fallout from the war in Ukraine – Russia cutting off Europe's gas supply, the rise of heating and electricity bills across the land, and America's realignment and appeasement of Saudi Arabia as a result – has reminded us all of the persistence of fossil fuels as a vital energy source for the continued functioning of society and the economy. The question, then, becomes: how do we keep living with fossil fuels in as sustainable a manner as possible? Welcome to the new era of energy realism.
Thankfully for us, energy companies that deal in fossil fuels are largely rising to the challenges inherent in this new reality. ABB, a Swiss-Swedish multinational, is a major energy provider and one of the largest companies in the world. Marie-Helene Westholm-Knebel is the Sustainability Manager at ABB Process Automation. She offered some colour to the context: "We are seeing a lot more companies trialling and enjoying success with a widening range of technologies and solutions that are helping them become more sustainable, minimise costs, and, ultimately, cut their carbon footprint."
What does this look like in practice?
There are a number of burgeoning fields of technologies that offer a path. A digital approach enabling the innovative use of data analytics is one that is being readily embraced.
Westholm-Knebel notes the growing use of this approach among players in the field: "In ABB's recent Billions of Better Decisions research study, 96% of decision makers across 12 industries agreed that digitalisation was essential to achieve sustainability goals. In a recent survey of 400 executives from various industries and regions conducted by Bain & Company and the World Economic Forum (2022), 40% of respondents said they believe digital technologies are already having a positive impact on their sustainability goals."
Machine learning (ML) and AI – the buzzwords of the year – are helping speed this process along: "Move towards autonomous, taking automation to autonomous allows operations to simply run better and more efficiently. ML and AI help to identify and mitigate production interruptions, meaning workers will spend less time troubleshooting in physical environments and more time addressing issues remotely, which delivers tangible sustainability benefits."
The results have been tangible for ABB, which has "reduced its own CO2 emissions by 65% since 2019 as part of its Sustainability Strategy 2030", and it now seeks to be carbon neutral by the end of the decade.
"Our strategy details how we will support our global customers in reducing their annual CO2 emissions by at least 100Mt by 2030 – the equivalent of removing 30 million combustion cars from the roads. We also work with our most impactful suppliers to achieve a 50% reduction in their emissions by 2030 and ensure that responsible sourcing is a core part of our processes and purchasing activities."
Companies that don't adapt in the successful manner that ABB has are doomed to fall by the wayside, the victims of a competitive marketplace and an increasingly strict regulatory environment that demands higher standards of sustainability.
"Fossil fuel companies must adapt to survive"
Publicis Sapient is a digital transformation consultancy group based in Cambridge, Massachusetts. Vice President of Energy & Commodities there, Alberto Bruno, speaks to this new reality. He notes that companies failing to bend to these changing standards "risk seeing funding dry up".
"Banks and other financiers are under pressure by their own investors to pull funding for 'dirty' investments and of investors pulling out. Regulations (which are still largely embryonic) are also progressively making life harder for banks, and they are watching their profits shrink due to unavoidable carbon taxation."
As well, the crisis in Ukraine has created a sense of false security of which fossil fuel companies should be wary. Despite record profits, they should not lose sight of the challenges ahead.
Bruno goes on: "These profits should be seen as an opportunity to fund the transformation of their business, their digital capabilities, and their culture – which many companies are already doing, especially in Europe – as opposed to being used for share buybacks."
Ultimately, fossil fuel companies must adapt to survive. And they must also work in tandem with the renewable side of the energy industry. In his concluding words, Bruno offers a glimpse of the future, one that will bring together the dinosaur stalwart of fossil fuels and the fledgling energy sources of the future: "The energy transition needs to accelerate, and this can only happen if all sources of energy work together, while technological advancements such as carbon capture help make fossil fuels cleaner and more sustainable and electrification takes hold.
"For now, there is no silver bullet; hydrogen is decades away from being able to replace fossil fuels at scale. This is a fantastic opportunity for fossil fuel companies to transform; they are key to the transition, and they have the means to transform while having a net-positive impact."