Absolut launches new sustainable and recyclable paper bottle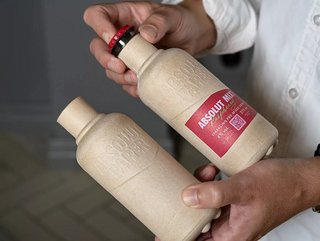 Prototypes of a new, sustainable, paper-based packaging for Absolut vodka.
Absolut has launched a new paper bottle design as the brand focuses on delivering recyclable packaging while driving carbon-neutral production
Growth is driven by the ability to adapt to external forces and as we've seen with the likes of Unilever and Carlsberg, liquids can now be packaged sustainably in bio-based, degradable packaging that won't spill out contents into shoppers' carrier bags.
The shift to paper-based packaging is a response to the inevitable demand for reduced plastic packaging in the consumer goods industry, and it seems alcoholic drinks are no exception either—whether in plastic or glass bottles.
Absolut Vodka showcases its latest packaging to demonstrate how its products will look once the company shifts to a sustainably-sourced wood fibre bottle, which is said to be strong and sturdy, and contains liquid to the same effect.
The aim being to minimise its impact on the environment and this resulted in the parent company, Pernod Ricard's influence, which follows in the footsteps of what Carlsberg announced last year.
The prototype vodka bottles are made of 57% paper and 43% plastics—all recycled. Further to this, both components of the bottle can be recycled again after use.
"We're allowing ourselves to truly think outside the box, both in terms of design and sustainability," said Niclas Appelquist, former Director Future of Packaging at The Absolut Company who is responsible for innovation associated with The Paper Bottle project.
"The initial stages of the project, we have developed a first-generation prototype of the paper bottle that consists of biodegradable FSC-certified paper with a barrier of recycled plastic."
As it follows some of the leading brands into this new realm of sustainably produced packaging, the company prides itself on becoming part of a 'Pioneer Community' alongside the likes of The Coca-Cola Company and L'Oreal Europe—businesses that will contribute majorly to waste reduction in consumer drinks.
Drinks that enable carbon-neutrality and support sustainable agriculture
Where does the project align with sustainability?
There are other components for Absolut to consider when aiming for total sustainability, which relate to its production process. As distilling vodka is deemed an energy-intensive process, the company is closely managing its emissions by reducing its energy consumption per litre of alcohol produced. This results in the distillery becoming 60% more efficient than the average company in the market. By 2030, Absolut aims to be carbon neutral and, in doing so, incorporate sustainability certified wheat into its batches.
Leading up to 2025, the drinks company will reduce the climate impact from wheat production by 10%, which is a step further to eliminating carbon from agriculture while providing a sustainable business stream.
Alongside the paper bottle initiative, the company continues to develop its glass bottle packaging, and Elin Furelid, Global Head of Product Portfolio & Design, Absolut, says:
"We were keen to capture our rich, quality story and make that clearer on the bottle, signposting to what makes our vodka unique. We have of course kept the most important design elements that make Absolut, Absolut."