Exclusive Video: Ron MacDonald, CEO of Zinc8
Zinc8's CEO Ron MacDonald took centre stage at Sustainability LIVE New York to discuss how governance can pave the way for green energy self-sufficiency
Sustainability Magazine, Feedspot's number-one ESG magazine, hosts a number of in-person and virtual events throughout the year, welcoming the world's most influential sustainability leaders to the stage to discuss some of today's most pressing topics.
On 19th April 2023, the first-ever Sustainability LIVE New York was held, where thousands of delegates tuned in virtually from across the globe.
Green Energy: How effective governance can pave the way for green energy self-sufficiency
At Sustainability Live Virtual New York 2023, Ron MacDonald, CEO and President of Zinc8, took to the virtual stage to discuss How effective governance can pave the way for green energy self-sufficiency.
During his early career, MacDonald was as President and CEO of The Council of Forest Industries, a Canadian lumber group for which he developed new markets in India, Japan, Korea, and China.
From here, MacDonald went into the political arena and held many international roles within the Parliament of Canada. He was the MP for Halifax, Nova Scotia from 1988 to 1997, and during this time, he became Parliamentary Secretary of International Trade.
He also served as President of NRStor Remote Communities and Mines among more recent appointments, focused on partnering off-grid Indigenous communities and mines to develop renewable energy and energy storage projects.
Through his presentation, MacDonald discusses what governance is, why good governance is important to businesses, the necessity of having a strong and diverse board, as well as many other important factors.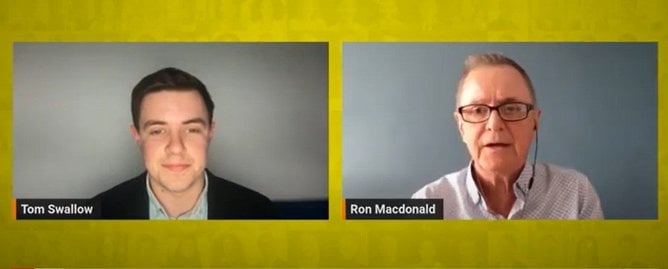 Ron MacDonald, CEO of Zinc8 at Sustainability LIVE New York
Talking on the points of DEI, MacDonald says: "We've committed the business to well-paying jobs. You've got to achieve equity in the workforce.
"I need my workforce to reflect the community and community engagement. That's why we've committed to initiatives, such as an employee profit-sharing plan to ensure that we're not just giving back to investors. We're also giving back to the community that has supported us."
To watch any of our other speakers from Sustainability Live USA, click here.
To find out more about upcoming Sustainability Events, click here.
To find out more about sustainability, visit Sustainability Magazine.
To take a look at our previous events, click here.