Hydroponic farming comes to major food distributor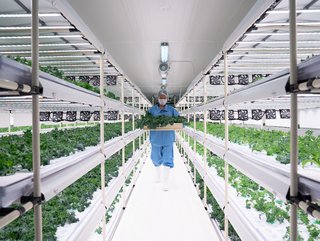 Square Roots' sustainably designed indoor farms to be placed in United Natural Foods facilities, increasing food resilience for major US distributor
United Natural Foods, Inc. (UNFI), a natural foods distributor and major supplier to outlets such as Whole Foods, has entered a partnership with indoor farming company, Square Roots. The deal will see Square Roots farms relocate onsite at a number of UNFI distribution locations.
The first of these farms will reach 20,000 square feet and be located at UNFI's facility in Prescott, Wisconsin. It is scheduled to open in 2023 and will serve customers in Wisconsin and Minnesota, including that state's heavily populated Twin Cities area.
The move is a part of UNFI's Better For All effort, which aims to integrate food supply chains in a manner that fosters closer relationships between suppliers and distributors. Already, the grocery wholesaler delivers its products to 30,000 locations throughout North America.
Shoring up food supply chains
Square Roots aims to use the highest in growth technology to grow leafy greens, micro greens, and herbs in its indoor, hydroponic farms. With this technology, it is able to grow foodstuff using far less water than is typical in traditional farming methods. As well, it is verified as pesticide free and in line with the Non-GMO Project. Proprietary software is used to manage all aspects of the growing process, which occurs year round.
Square Roots co-founder and CEO Tobias Peggs said the following on the company's techniques: "Our unique approach to indoor farming is fully optimized to support forward-thinking, large-scale distribution partners like UNFI… It's good business, and it's also better for people and the planet."
The company's other co-founder, Kimbal Musk, underscored the need to strengthen food supply chains: "Whether we're learning lessons from Covid-19, or considering the future impact of climate change, it's clear that we need more resilience in our food system. With this partnership we can now bring local food, grown by local farmers, to UNFI's network of retail customers, and their shoppers, consistently and reliably, all year round."