Siemens: Make ESG goals a business imperative
By Dave Hopping, CEO, Solutions & Services, Siemens Smart Infrastructure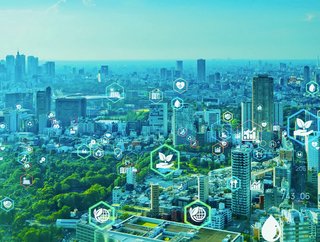 Dave Hopping, CEO, Solution and Services, Siemens Smart Infrastructure discusses why businesses need to prioritise ESG goals
Dave Hopping, CEO, Solutions & Services, Siemens Smart Infrastructure, discusses how digitalisation is revolutionising ESG across the real estate lifecycle
Environmental, social, and governance (ESG) has quite rightly become an important strategic framework for new and existing buildings. It is also increasingly a priority of those who use them – and who expect more from their environments.
For owners, operators and investors of commercial real estate, this has changed ESG considerations from an optional activity to a business imperative. That means embedding ESG into every stage of a property lifecycle – a seemingly gargantuan task. However, when done intelligently, systematically and digitally, it brings significant benefits – increasing the income and the value of real estate investments.
Regulatory requirements that aim for increased sustainability and positive social impact are having a profound effect on the way buildings are designed, constructed and operated. And it's not enough just to meet existing standards; requirements are likely to only become more stringent in the future.
Over two-thirds of real estate investors have now adopted ESG standards in their investment criteria, putting a particular emphasis on environmental factors, and redirecting financial flows to promote sustainable development. Today's occupants are also demanding more from their buildings. They want them to be healthier, more flexible, and more sustainable.
Tenants also want buildings that reflect their own values and that help them to meet their own sustainability goals. They want a better experience for everyone living and working in them. It's not surprising, therefore, that the ability to embrace and deliver ESG goals is critical for owners and operators of commercial real estate.
Harnessing data
The challenge is on, to transform existing buildings, and create new buildings that have sustainable operations and a positive social impact at heart. It's an extremely complex issue that involves the integration of myriad data streams, systems and technologies. And while it sounds like a daunting task, it needn't be; digitalisation is critical here.
It enables transparent, high quality, comprehensive, credible, and insightful reporting data, providing evidence for corporate claims on ESG achievements. If managed according to certification standards of reputable, global reporting frameworks (like GRI, PRI, or SASB), the data will be standardised and comparable. Verification of ESG KPIs and building energy performance for investors and other stakeholders can be made easy.
Four critical phases
There are four key phases to harnessing this digital potential to improve sustainability, and to drive ESG targets in commercial real estate. The first is focused on transparency and strategy. Here, organisations begin by prioritising their ESG criteria based on their corporate values, infrastructure and portfolio. They look at how ready they are to address ESG goals and where measures can be applied to increase their ratings. By clearly mapping out a strategy that is appropriate for them, they can break the problem down into manageable parts.
The second looks at the existing building portfolio and infrastructure in place. Mapping existing data against desired ESG goals, it's possible to identify where the gaps lie and where there are opportunities to do more. It also enables the return on investment – and a business case – to be identified.
With this in place, the third phase can begin – solution design and planning. Roadmaps and architecture blueprints are defined, and technical solutions evaluated. This identifies how data can be automatically gathered and analysed – and the effects this will have on the organisation.
It identifies the technology that can be employed – from solutions that gather and analyse IoT data, to complete digital building platforms, like Siemens' own Building X, from the Siemens Xcelerator portfolio. It looks at where off-the-shelf solutions can be used, and also where it makes sense to co-develop something customised, perhaps to specific use cases. This can all be translated into technical requirements and a strategy for organisational transformation.
Finally, these solutions can be implemented in individual assets, and scaled across an entire building portfolio. It's the beginning of the organisational transformation.
This is not as difficult as it once was; the process has been made more accessible through digitalisation. New technology delivery models such as Software as a Service (SaaS) have reduced the costs and barriers to entry and made it possible to take a phased and modular approach to implementing ESG transformations. Implementation costs can also be offset by cost savings achieved.
Demonstrable benefits
The benefits of a strong ESG strategy can quickly be seen on the balance sheet. Reductions in emissions bring positive financial returns, through lower energy and operating expenses. Decarbonisation de-risks assets and portfolios in value depreciation, and sustainable buildings benefit from green premiums on rental income.
Another valuable outcome is the ability to provide evidence of an organisation's ESG achievements. Digitalisation provides the transparent, quality data that's needed. It also helps to ensure that it is managed and standardised to globally accepted standard. ESG reporting provides investors and other stakeholders with the verification that ESG goals are being hit. Green certified buildings can translate into significant increases in sales values, higher occupancy rates and rental incomes, and buildings that aren't considered sustainable are increasingly facing a 'brown discount' on their value or emission penalties.
A proven ESG strategy also has an impact on the perception and value of properties. Tenants increasingly select their building leases based on ESG criteria, looking for those that complement their own corporate values and strategies. High-profile tenants help to attract similar companies and to create a culture that is both desirable and self-perpetuating, leading to increased desirability and occupancy. The ability to generate positive ESG ratings also means you are likely to be included in trending, sustainable equity indices, which can give real estate owners access to more capital on better terms.
So, rather than being seen as a burden, the application of technology to meet ESG goals should be seen as an opportunity and an imperative, with myriad benefits. By creating sustainable real estate, owners, operators and investors are future-proofing their properties, increasing their value, and delivering a long-term competitive advantage in the marketplace.
Words: Dave Hopping, CEO, Solution and Services, Siemens Smart Infrastructure
Disclosure: This article is an advertorial and monetary payment was received from Siemens. It has gone through editorial control and passed the assessment for being informative.
*************************************************
For more insights into Sustainability - check out the latest edition of Sustainability Magazine and be sure to follow us on LinkedIn & Twitter
Other magazines that may be of interest - EV Magazine | Energy Digital
Please also check out our upcoming event - Sustainability LIVE in London at the BDC on Sept 6/7th 2023
*********************************************
BizClik is a global provider of B2B digital media platforms that cover 'Executive Communities' for CEO's, CFO's, CMO's, Sustainability Leaders, Procurement & Supply Chain Leaders, Technology & AI Leaders, Cyber Leaders, FinTech & InsurTech Leaders as well as covering industries such as Manufacturing, Mining, Energy, EV, Construction, Healthcare + Food & Drink.
BizClik, based in London, Dubai & New York offers services such as Content Creation, Advertising & Sponsorship Solutions, Webinars & Events.