NetEnergy Capital reaches funding milestone on path to solar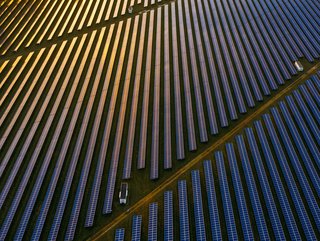 The company has raised nearly £600bn ahead of schedule, auguring good things for its goal of reaching £1bn as it seeks to build up solar across the UK
NetEnergy Capital, one of the foremost ESG companies in the world and a major solar power investor, has announced the third close of its NextPower UK ESG fund at £595m.
It has come in good time, too, and is closing above target. The third close came six months after the first one has and is still within the limit of the two year time period. The target for the third round was £500m, a figure exceeded by nearly £100m. The fund's hard cap is £1bn.
The first close was in August 2022, and the second one was in December 2022.
A number of investors stepped up to see this third close through: Border to Coast Pensions Partnership, and the UK Infrastructure Bank which has committed £250m to the fund to date. Other investors have also contributed, with the fund expecting to welcome new investors on its path to £1bn.
Building solar in the UK
The fund's mission is a bold one: a private solar fund dedicated to unsubsidised new solar plants in the UK which will produce enough clean energy to power 500,000 households; or, another way of looking at it, offsets the carbon emissions of 200,000 cars.
Speaking on the recent accomplishment, NextEnergy Group CEO and Founding Partner Michael Bonte-Friedheim commented: "NPUK ESG continues to go from strength to strength and is actively accelerating the deployment of utility scale solar in the UK, providing additional renewable energy capacity, and increasing the UK's energy independence.
"NextEnergy Capital leads the global sector in offering innovative access to opportunities identified by a true solar specialist. The momentum is a testament to the NEC's deep knowledge and detailed preparation, leading to the rapid deployment of capital in our funds. We are expected to conclude further acquisitions in the near future which will significantly increase the Fund's commitments."