Nuclear energy — an unsung hero in tackling climate change
By Dr. Gilles Georges, Chief Scientific Officer of CAS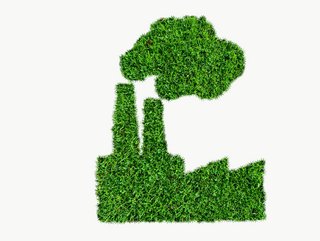 Nuclear energy's green potential was brought to the spotlight at the recent COP 27 climate change conference in Egypt. How viable is it?
Nuclear energy's green potential was brought to the spotlight at the recent COP 27 climate change conference in Egypt, but will the energy sector embrace nuclear as the 'unsung hero' of tackling climate change?[i]
Dr. Gilles Georges, Chief Scientific Officer of CAS, highlights key trends in the nuclear energy sector and how this once maligned villain may be the unexpected hero in global efforts to reach net zero emissions by 2050.[ii]
Renewed outlook for nuclear energy
The global focus on decarbonisation and an energy crisis, ascribed largely to recent geopolitical crises that have sent shocks through global energy markets, are triggering world leaders to rethink once staunch anti-nuclear stances and embrace its benefits as a sustainable energy source.[iii]
Major incidents, including the 1986 Chornobyl accident in Ukraine and the 2011 Fukushima meltdown in Japan, contributed to strong anti-nuclear sentiment in many countries, and in the past 15 years over 80 global nuclear reactors have shut down permanently.[iv]
However, more than a decade on from the Fukushima disaster, Japan has renewed its investment in nuclear energy, with ten reactors 'restarted', and a further 18 reactors under development or restarting. The government's aim is for nuclear power to play a key part in de-carbonization and provide 20–22% of the country's electricity by 2030, up from just 5% in 2020.[v]
Nuclear energy produces zero emissions during operation, and over its lifecycle produces a similar carbon-dioxide-equivalent emissions volume per unit of electricity as hydroelectric power. This positions nuclear as a reliable alternative energy source that can be deployed at a large scale to reduce the dominant reliance on fossil fuels. France is one of the countries leading the way in this transition, with over 70% of its electricity coming from nuclear generation.
This shift is supported by innovation in newly developed advanced nuclear plant technology that mitigates many of the safety concerns of traditional plants. These include smaller modular reactors and micro-reactors, which can provide cheaper energy with less fuel and are easier and less expensive to build than conventional large-scale nuclear reactors.[vi]
Efficiency and reprocessing opportunities
The efficiency of nuclear energy generation differentiates it from most traditional energy sources, with five grams of uranium producing, on average, an equal amount of energy to one ton of coal, 17,000 cubic feet of natural gas, and 149 gallons of oil.
[vii] Fusion research also shows promising potential to unlock the possibility of more energy output than actual input.[viii]
Perhaps one of the most overlooked sustainable aspects of nuclear energy, however, is the opportunity to reprocess nuclear waste for wider use by employing separation methods such as PUREX. This process enables recovery of uranium and plutonium from spent nuclear fuel via liquid tributyl phosphate extraction. These recovered heavy metals are then purified, converted into oxides, and reused.[ix] To date, about 30% of the approximately 400,000 tonnes of heavy metal discharged from nuclear power plants as spent nuclear fuel has been reprocessed.
[x]
Nuclear reprocessing is currently operational across France, India, Israel, Pakistan, and Russia, and several other countries are now exploring these capabilities. For example, the Advanced Research Projects Agency of the US Department of Energy is funding new projects to explore recycling nuclear waste through reprocessing, which has been halted in the U.S. for decades over nuclear proliferation concerns.[xi]
Need to double nuclear energy capacity by 2050
Currently, more than 400 nuclear power stations worldwide produce ~10% of the world's electricity, but projections suggest that nuclear energy capacity will need to double over the next 30 years to meet growing energy demands.[xii] Global nuclear power capacity is increasing steadily to support growing demand, with 60 reactors under construction and over 400 planned or proposed globally, which presents significant investment opportunities in nuclear and adjacent industries.

In summary, advancements in nuclear technology and the world's growing need for clean, efficient, and recyclable energy are shifting perspectives on nuclear. Governments across the world are compelled to seriously consider nuclear energy opportunities as they race to achieve net zero emissions by 2050 while fuelling an ever more power-hungry population.
Those looking to explore deeper perspectives on nuclear energy or wider scientific trends related to sustainability from the science team at CAS can visit CAS Insights.

About CAS
CAS is a leader in scientific information solutions, partnering with innovators around the world to accelerate scientific breakthroughs. CAS experts curate, connect, and analyze scientific knowledge to reveal unseen connections. For over 100 years, scientists, patent professionals, and business leaders have relied on CAS solutions and expertise to provide the hindsight, insight, and foresight they need so they can build upon the learnings of the past to discover a better future. CAS is a division of the American Chemical Society. Connect with us at cas.org.