Plastic technology to prolong life of supermarket produce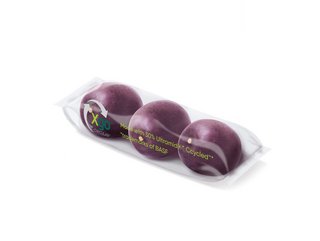 The technology, which is the result of a partnership between BASF and StePac, uses chemically recycled plastics in what is effectively a circular economy
Fruit and vegetables on supermarket shelves might be getting some more life in it soon after companies BASF SE and StePac Ltd. have combined efforts to create a new generation of packaging specifically designed for produce.
As per the terms of the agreement, BASF will provide StePac with Ultramid Ccycled, a polyamide 6 which is chemically recycled. Using this technology, StePac will have greater tools at hand to develop more sustainable packaging for use in the circular economy.
Business development manager of StePac Gary Ward commented: "This alliance will help strike a balance between creating plastic packaging that is as eco-friendly as possible to keep produce longer through more prudent use of lean plastic films.
"These upgraded packaging formats will continue to maintain their role of significantly reducing food waste, a most important task considering that global food waste is responsible or about 8% of anthropogenic greenhouse gas emissions."
Towards a circular economy
StePac has pioneered the use of chemically recycled plastics for perishables. Two of its brands, Xgo and Xtend, have humidity control built into the design so that respiration inside the packaging slows, delays ageing, stops microbial decay, and does this all while preserving the nutritional value of the contents inside.
Chemical recycling of plastics is a burgeoning field. It tends to use plastics that otherwise would have been landfilled or used for energy recovery. Technology, such as that developed by BASF, helps bring the plastics into a circular economy, where they are reused for food storage.
Said BASF European polyamide Vice President, Dr. Dominik Winter: "In a thermochemical process, our partners obtain recycled feedstock from these end-of-life plastics… This helps to replace fossil raw materials and is an important step towards circularity. As chemically recycled plastics have the same quality and safety as virgin material, the scope of plastics that can be recycled for fresh produce packaging is widened."