Powered by People: Designed for sustainable growth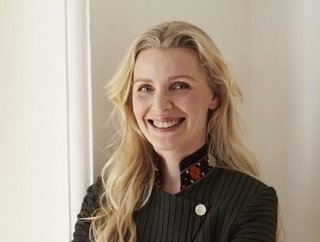 Powered by People Chief Commercial Officer, Hedvig Alexander is in charge of Sustainability and works with hundreds of makers from more than 50 countries
Alexander founded Powered by People (PBP), along with Ella Peinovich-Griffith and Alison Phillips to be a company built on more than just its bottom line—but one that could make a genuine impact. "I've always been drawn to being both an entrepreneur and a humanitarian," says Alexander. "We work to provide sustainable economic opportunities to independent makers by providing them access to the global economy. They, in turn, strengthen the lives of their employees, families and communities, potentially impacting millions worldwide."
Before Powered by People, Alexander worked in different capacities with artisans and local communities to help them scale their businesses. "The crafts sector in developing communities is the second largest employer after agriculture, and supporting these businesses, which are often primarily owned and run by women, not only helps to support them, but entire communities."

Alexander received her B.A. from Copenhagen Business School in philosophy and economy and her M.A. from Yale University in International Relations. She is a former Danish Army Officer and was posted in many different parts of the world, eventually living in Afghanistan for nearly a decade. "In Afghanistan, I started a company called Building Markets which helped support local businesses and added 1.6% to Afghanistan's GDP in 2006. From there, I eventually became Managing Director of a terrific organization called Turquoise Mountain, a non-profit which was started by the Prince's Trust to help revitalise the craft industry in Afghanistan." After leaving Turquoise Mountain, Alexander started Far + Wide Collective, an online platform selling handmade and fairly traded products to conscious consumers across 18 countries.

Sustainability Magazine caught up with Alexander to find out more….
What led you to this industry?
I've been fortunate to live all over the world, and in fact, just moved back to Canada after living for many years in Kenya. I've seen first-hand how working with small-batch makers creates greater impact for businesses to do good. It gives retailers an authentic storytelling platform which in turn promotes conscious consumption. These partnerships allow retailers to help improve global equity by creating sustainable economic growth in underserved communities.


What is Powered by People?
We call ourselves the "merchant for the world." Powered by People is a B2B digital global wholesale marketplace that allows international retailers to discover and source high-quality products created by small batch producers from 50 countries on five continents. PBP reduces complexity for both makers and buyers, fostering simplicity and transparency. One of the challenges retailers have of working with small-batch makers in remote communities is that the makers often cannot afford the cost of doing business with international retailers that require them to finance materials, production and shipping up front and wait 60 days or more for payment. Our easy-to-use platform allows retailers of any size to discover small-batch makers, gives them peace of mind through our verification process, and then allows them to develop unique product without cost- and time-prohibitive travel. We even facilitate shipping and last-mile delivery. PBP also provides makers with access to purchase order financing which ultimately creates exponential value for everyone–the makers, the retailers, and consumers.
Tell us about Powered by People's core values and strategies?
Ethical business practices, sustainability, and respect for human rights are Powered by People's guiding principles. The creative manufacturing and handmade sector is estimated by the World Economic Forum to reach $1T by 2024. However, despite the size of this sector, it has suffered from a lack of investment, digitization, and access to global markets. The biggest part of the handmade sector's workforce is women, young people, and rural communities. Our goal is to break down barriers to market entry for small batch creators and manufactures everywhere. PBP promotes conscious consumption, transparency, and simplicity. We aim to improve global equity by creating sustainable economic growth in underserved communities by reducing complexity for retail buyers and giving small batch makers confidence as they continue to expand their business internationally.
What sets Powered by People apart from its competitors?
Powered by People is extremely unique as we bring an entirely new segment of brands into the global economy. We enable our small-batch and handmade producers to create these connections with the retail industry by bringing them online and supporting them financially. This allows our retail partners to discover brands that aren't typically in the public eye and creates an opportunity for makers to compete against big-named brands.
What has been your greatest challenge and biggest achievement?
It's one and the same! To hire and manage a global and very diverse team - across cultures, multiple time zones is never easy but it's also what makes PBP what it is - giving us color, inspiration and constant renewed insights. At PBP there is always a team somewhere in the world that is awake and working.
What has been your biggest lesson since founding Powered by People?
That you always have to be open, stay flexible and be willing to change - even when it means taking a hard look at yourself. A fast growing company has to level up all the time - you are never the same company you were three months prior. If we as Founders don't understand how to do this, then how can we hope to inspire our team to do it?
What do the next 12 months hold for you and the company?
PBP plans to expand its platform to retailers in Europe and Asia in the coming year while also launching 5 new retail partnerships later in 2022. As conscious consumers demand more sustainable merchandise, PBP's goal is to shift 10% of mainstream retail to small-batch production by professionalizing and improving the access to market entry for creators everywhere. Our platform empowers makers to compete on a global scale by connecting the entire maker community to digital tools that support more effective production, collecting information on supply chains and linking everything from HR to payments across every stage of selling, from raw material sourcing to shipping. PBP will provide retail buyers and their consumers even more transparency on product origins, materials and labor with a certification program that enables and verifies achievable metrics of small batch business sectors.