SUSTAINABILITY LIVE London: Schneider Electric, RSPB & more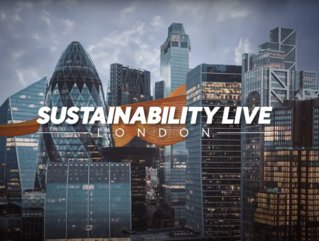 SUSTAINABILITY LIVE London 2023
As SUSTAINABILITY LIVE London is nearly upon us, we're pleased to announce six new speakers, from Schneider Electric, Smurfit Kappa and more
SUSTAINABILITY LIVE London is set to return on September 6th and 7th 2023, at the Business Design Centre.
Join us this September as we gather influential individuals from various industries to exchange concepts and proven solutions, while offering practical insights that will drive us towards a sustainable future.
Over the two days, the conference will feature more than 70 globally recognised leaders in sustainability, addressing vital aspects of this field. Whether it's delivering industry expertise or engaging in topical discussions, expect our speakers to explore issues impacting both our present and future. Grab your FREE ticket here
We are therefore delighted to introduce six new speakers who will take the spotlight.
Steve Smith, Head of Global Marketing: Energy Management Thought Leadership and Communications at Schneider Electric
Time: 10AM
Date: Wednesday 6th September 2023
Location: Stage one
Steve Smith is the Head of Communications and Thought Leadership for Energy Management at Schneider Electric, the global leader in the digital transformation of energy and automation, employing around 140,000 people in over 100 countries.
Steve has over 25 years of marketing experience, primarily working in and around the electrical and energy industry. He has an in-depth knowledge of the challenges we face to deliver more energy whilst simultaneously reducing the impact on the environment. At Schneider Electric, he is responsible for communicating that message in ways that resonate with government, industrial giants, SMEs and the wider public.
Having held senior marketing positions across multiple geographical zones, Steve has driven engaging and award-winning content with strong collaboration between regional teams, businesses and communities to leverage consistent best practices and tangible value to businesses.
Time: 10:20AM
Date: Wednesday 6th September 2023
Location: Stage one (The Sustainability Strategies Forum)
Jeffrey Whitford once bought snake venom from a man in Louisiana. That's just one of many experiences in which his innate curiosity has sparked ideas that translated into meaningful impacts over the past 15+ years at Merck, a €10.38 billion global science and technology company committed to enhancing the human experience through curiosity and sustainability.
He serves as a strategic partner to the Life Science Business to accelerate, embed, and amplify sustainability principles and impact across its business operations to drive new business models, margin expansion and cost savings. This is all with one goal in mind: reducing the business' impact on the environment and enabling customers to make more sustainable choices.
Time: 10:20AM
Date: Wednesday 6th September 2023
Location: Stage one (The Sustainability Strategies Forum)
Garrett Quinn was appointed Group Chief Sustainability Officer in July 2021. He joined Smurfit Kappa in 2000 and has held several roles in operations across the Group in Argentina, France and Ireland before moving to the UK where he managed a number of corrugated box plants.
In 2016, he took up the role of Head of Investor Relations for the Group, a position he held until 2021. Garrett holds a bachelor's degree in Commerce from University College Dublin and has completed his postgraduate studies with the Cambridge Institute of Sustainability Leadership.
He was appointed as Director of the Smurfit Kappa Foundation in May 2022. Garrett is also the company representative to the World Business Council for Sustainable Development (WBCSD), The Conference Board (US) and the Consumer Goods Forum.
Time: 14:50AM
Date: Wednesday 6th September 2023
Location: Stage one (The Net Zero & Planet Forum)
Beccy Speight is the Chief Executive Officer of the RSPB, the largest nature conservation organisation in the UK, with 1.2 million members, more than 2,000 employees and around 12,000 volunteers.
She started her career in local government in Scotland, and then moved into management consultancy, working in mergers and acquisitions. Beccy made the move to the conservation charity sector in 2000, including as director for the National Trust's East Midlands and Midlands regions. She became Chief Executive at the Woodland Trust in 2014 and led the expansion of the woodland creation charity and maximised it's focus through a review of priorities, before commencing her present role at the RSPB in 2019.
Time: 14:50AM
Date: Wednesday 6th September 2023
Location: Stage one (The Net Zero & Planet Forum)
Sven Wiltink is developing the Sustainability programme in the Radisson Hotel Group's 1,100+ hotels in operations and development in 95 countries around the world.
Sven has been with Radisson Hotel Group since 2007, started as a trainee in Iceland, after 9 years of operational experience in various hotels he started in 2016 in the Responsible Business team in Radisson Hotel Group HQ in Brussels, Belgium.
Together with his team, he leads the group's Net Zero transformation based on approved Science Based Targets, is actively involved in the development of our pathway to net-positive hospitality, implementation of Hotel Sustainability Basics for all its hotels and keeps team members around the world engaged in everyday Responsible Business actions.
He is coordinating the annual sustainability reporting process and currently leading the digital transformation of sustainability data management, both for internal and external stakeholders.
Time: 14:50AM
Date: Wednesday 6th September 2023
Location: Stage one (The Net Zero & Planet Forum)
Matt Bell is the Strategic Communications Director at Heatherwick Studio, a global design practice of 260 makers and architects. He is the creator of a pioneering climate art programme called the Young London Print Prize, chair of Woolwich Contemporary Print Fair, and sits on the board of Local Trust, a 15-year lottery-funded programme pioneering new ways of building community.
He has previously held leadership roles with international NGOs, public bodies and a FTSE 100 business. For ten years he was the Chair of Hope and Homes for Children, an international NGO that works to stop the institutionalisation of children. And he co-designed the award-winning Street Elite programme which uses sport to tackle unemployment and alienation among young adults.
*************************************************
For more insights into Sustainability - check out the latest edition of Sustainability Magazine and be sure to follow us on LinkedIn & Twitter
Other magazines that may be of interest - EV Magazine | Energy Digital
Please also check out our upcoming event - Sustainability LIVE in London at the BDC on Sept 6/7th 2023
*********************************************
BizClik is a global provider of B2B digital media platforms that cover 'Executive Communities' for CEO's, CFO's, CMO's, Sustainability Leaders, Procurement & Supply Chain Leaders, Technology & AI Leaders, Cyber Leaders, FinTech & InsurTech Leaders as well as covering industries such as Manufacturing, Mining, Energy, EV, Construction, Healthcare + Food & Drink.
BizClik, based in London, Dubai & New York offers services such as Content Creation, Advertising & Sponsorship Solutions, Webinars & Events.