tentree shows businesses how to regenerate the environment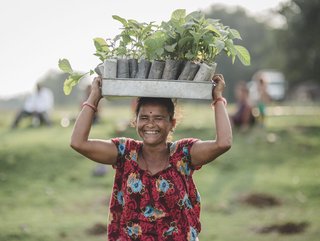 Credit: tentree
Reaching its milestone of 100 million trees planted in 2023, tentree has its sights set on one billion by 2030. So, how can businesses learn from this?
What impact could a business have if it planted 10 trees for every item sold? Based on past consumer culture, businesses could have significantly increased their contributions to carbon sequestration and encouraged end consumers to act upon climate change.
Generally, tree planting is seen as one option to offset carbon emissions, meaning that businesses without capacity will fund the progress of reforestation and conservation to regenerate underserved environments.
Through tree planting and other regenerative actions organisations could have a huge impact and businesses continue to stress the importance of actions like tree planting. Those organisations looking for an example on how this is achieved directly can look to the apparel industry where tentree is built on the premise that each purchase facilitates the planting of 10 trees.
Saving the planet, ten trees at a time
From a startup position in 2012 to the present day, the business has planted 100 million trees as a result of product sales and continues to do so to reach the 2030 goal of one billion. Planting that many trees as a signal organisation will equate to a third of the EU's entire goal.
"Planting 100 million trees is an exciting milestone in our journey to plant over 1 billion trees! However, it's not just about the number of trees, it's about the impact those trees will have," says Derrick Emsley, Co-Founder and CEO of tentree and veritree.
"Over their lifetime, these trees will remove as much CO2 from the atmosphere as taking 6.5 million cars off the road for a year and restore an area the size of over 44 central parks. All the while, this planting has helped to create thousands of full-time jobs in communities all around the world. And now, with the addition of planting kelp and coral, we're improving the health of the planet both on land and underwater."
While this is a unique case, whereby Emsley also runs the organisation planting its trees, it sets a precedent for larger organisations to suggest that, if a 10-year-old business can do it then corporates can also find ways to make an impact.
The trees planted can be found in the US and Canada, as well as Madagascar, Kenya, and Indonesia. The businesses recently ventured into ocean conservation with a select product line to encourage the planting of kelp and coral, which is crucial for reducing atmospheric carbon and cooling the planet over time. The planting of 100 million trees will regenerate 15,000 hectares of land and is expected to sequester more carbon—30 million tonnes to be exact.
Circularity alongside sustainable regeneration projects
Besides the positive impact of its tree planting regime, the company is also committed to ensuring its products are circular. The key materials found in its garments include REPREVE® recycled polyester, TENCEL™ lyocell, organic cotton and hemp. These materials create the signature fabrics that have been used to produce sustainable garments for its customers.
"We know our customers support us because they believe in the importance of having a positive impact on nature, climate, and people through their purchase," says Emsley.
"They rely on us to do the work to make sure that the trees their purchase plants actually drive meaningful impact.
"After having planted 100 million trees, we've seen just how hard this can be and, in answer to this problem, we created veritree, a now independent technology company that helps us verify our planting outcomes as we manage the lifespan of the trees, kelp and coral for decades. And, with veritree, our reach extends beyond tentree connecting other businesses to verified tree planting projects to restore our planet."
What can businesses learn from tentree's sustainability endeavours?
Businesses are taking action to reduce waste and increase their sustainability credentials, but with investments into projects like that of veritree will increase the likelihood of meeting the Paris Agreements target to limit temperatures climbing any further than 1.5 degrees celsius.
While we don't expect businesses to form their own tree planting organisations, they can offer products with sustainable repercussions, such as garments that come with planting agreements or consumer goods that encourage carbon reduction over other products.
Alternatively, supporting businesses like tentree and veritree are viable options for businesses that provide clothing for their employees or simply wish to back tree planting initiatives.