Tidal barrier in southwest England works with local charity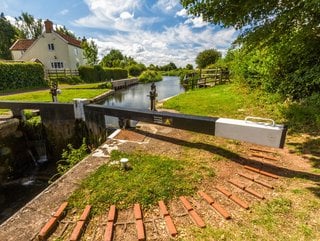 While the tidal barrier in Bridgwater will protect thousands of homes and businesses from worsening floods, the charity will promote wildlife and ecology
As a new floodgate goes up in Bridgwater, Somerset, so has money gone to the Wildfowl and Wetland Trust (WWT) to ensure the increase of wildlife and biodiversity.
The floodgate itself is something of a mega project: upon completion the £128m barrier is due to protect about 11,300 homes and 1,500 businesses from flooding.
The money for the WWT – £140,000 – has gone to the Somerset County Council to deliver "environmental benefits." The charity already operates the Steart Marshes nature reserve at the mouth of the River Parrett and helped develop the Meads eco park near Bridgwater. The charity has promised to double the cash coming from the county council through grant applications and fundraising.
Already the charity has been tasked with identifying "opportunities and projects that would enhance sustainability and deliver environmental benefits in this area." Speaking on the WWT's past performance, the county council's service manager for policy, one Nick Tait, commented that, "They are a charity with extensive experience and success in fundraising."
Planning and delays
The tidal barrier itself has been in the works since 2018, when early versions of the plan were published. Following these early plans for a riverside park, the Sedgemoor District Council and the Environmental Agency put proposals for the new barrier forward in December 2019. Approval for this was granted in January 2022.
Despite the long timeline, construction has been delayed. A new cycle link, funded by the government, was expected to link the project with the town centre. The discovery of asbestos in the vicinity has slightly delayed the project.
Construction, says one involved party, should pick up in early 2024.