Wob 2nd-hand book report shines light on circular economy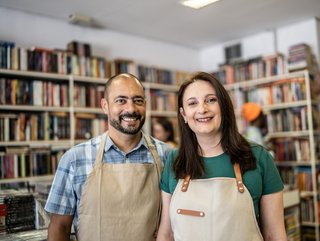 The World of Books Group report shows how massive second-hand book market now is - a market that has its roots in post-Second World War rationing
It may sound like a freshly coined term but 'circular economy' - both as a phrase and a mode of business - has been around for decades.
It was first coined back in 1966, by US economist Kenneth E. Boulding, in his book, The Economics of Natural Resources.
Yet as a lifestyle choice, the circular economy has been in existence for even longer, and in the vanguard was the second-hand book market, which began to take off after the end of the Second World War, when rationing remained in force for almost a decade.
What we now call the 'circular economy' was, in an earlier incarnation, a 'thrift economy'.
Second-hand book market worth $24bn a year
Fast forward to today and the global second-hand books market is valued at a colossal US$ 24bn, with sales predicted to increase by 6.6% year on year.
In the UK alone, second-hand retail - with books at its heart - employs an estimated 32,000 people, and the country's charity shops make around US$383mn
At the centre of the global second-hand books market is World of Books Group (Wob), which has recently released an eye catching report.
Wob was founded in 2002 with the aim of promoting sustainability and supporting charities, all while promoting second-hand books. It began life as a group of book-loving entrepreneurs, who rescued a bag of books from a charity shop bin destined for landfill and sold them second hand.
Now, Wob employs 720 people, and in its latest impact report it says:
It hit annual sales of more than £100mn for the first time
The books it sells is the equivalent of saving over 26,000 tonnes of new paper, which amounts to around 449,000 trees.
It made carbon savings of 6,168 tonnes in 2021 alone
It has cut its carbon footprint by over 50% over the past five years, and is on course to be carbon neutral this year
Wob continues to work towards its ambitious pledge to donate one million books a year by 2025 and, despite the challenges of the past 12 months, it has already donated more than 200,000 books in the UK and abroad.
Wob to step up second-hand book partnerships
Plans are in place to significantly step this up in 2022, through partnerships with organisations such as Books2Africa, Own Books and The Book Fairies.
Wob CEO Graham Bell says: "Looking forward, we are planning to become certified carbon neutral by the end of 2022, a net zero business by 2030, and we are committed to donating one million books to good causes.
"More broadly, we are dedicated to our company mission to support charities and protect the planet whilst making a positive impact on the world, all whilst continuing to offer our customers and communities more and more reasons to re-love a preloved book."