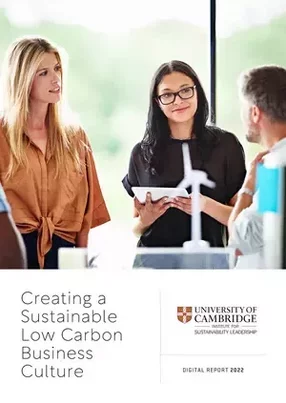 CISL: Creating a Sustainable Low Carbon Business Culture
Ben Kellard Director of Business Strategy, Cambridge Institute for Sustainability Leadership (CISL), on the need for a sustainable business culture
COP26 has placed sustainability, and specifically a low carbon future, right at the forefront of the business strategy agenda. No longer are companies able simply to pursue a profit-at-all-costs strategy without considering the environmental consequences of their actions. The customer of the future will simply not allow it.
However, for many companies there exists a large gap between intention and reality. They might wish to clean up their act, but how do they accomplish this? In many respects, the first step is to define what a sustainable business is and to work out whether you are one.
"The sustainable business identifies a purpose that serves society in a sustainable way," explains Ben Kellard, director of business strategy at Cambridge Institute for Sustainability Leadership (CISL), which is part of Cambridge University. He sees leading companies taking an external view to understand how the world is changing in terms of factors such as inequality and climate change. "That are completely reshaping how we do business, what our consumers expect of us and so on," he says.
Sustainable businesses also take an "inside out view", considering "what they are really good at as a business", and overlap that with the changing needs of their consumers and society to identify a "sustainable purpose", which they "internally integrate throughout the business." In effect they make sustainability core to their business, aligning all their working practices and innovations to this central mission.
Kellard believes that creating sustainable business practices can also be a highly motivating factor for the workforce.
"Human beings are purpose-led social animals," he says. "For a long time, businesses haven't really tapped into that. They've just sold us stuff. I think that when you align a corporate purpose with creating a sustainable future, that is something people can really get behind.
"Staff feel they can bring their full selves to work rather than leaving their real self at the door and picking it up again, at evenings and weekends."
According to Kellard, sustainable businesses also engage externally with "other actors up and in their ecosystem, their regulators, suppliers and customers to bring about the transformation in their sector because that's what is needed if you're going to have a truly sustainable purpose".
This is where CISL comes into play. Research, undertaken with leading academics in Cambridge and worldwide, is channelled into practical business and policy solutions.
"We advise leading companies on how they can become more sustainable," he says. "We also figure out what that means and then research it."
Kellard firmly believes in the quality of their network and faculty that CISL has developed over its 30 years of existence. He is also convinced of the need to create a low carbon sustainable future.
In many respects, CISL acts as a matchmaker introducing progressive companies to each other. "We convene them together to help them, test ideas with them," he says. "Because we bridge rigorous academic research and the real world."
CISL works in three main areas – sustainable finance, policy, and business transformation. As regards the former, its Centre for Sustainable Finance works with progressive banks and those who regulate them to play a catalytic role in achieving a sustainable economy.
For policy, CISL has developed links both with Westminster and Brussels to help shape the regulatory environment needed for a low carbon, sustainable economy.
However, it is business transformation that is Kellard's sphere of interest. CISL's Centre for Business Transformation works with businesses and their stakeholders to explore the critical questions shaping the future of corporations. He sees CISL's role as leading sustainable businesses on a journey to make them more beneficial for society, the environment and also shareholders.
"My day job is working with boards of companies to help them figure out how they can accelerate that journey, and applying research and evidence to that," he says. He then applies those insights to their research.
"Sustainability is complex, ambiguous and uncertain," Kellard explains. This is in part due to the need for sustainable businesses to engage with an external system that consists of suppliers, customers and regulators. "We help them identify their challenges and think about how they can resolve them," he says. "But it's always about bringing it back to the core business."
It is this which he finds both challenging and rewarding. He believes the aim is not just about mitigating risks, such as avoiding potentially negative reactions to the environmental consequences of the actions companies take. It is to unlock previously unrealised opportunities.
"I think if you're able to meet society's rapidly changing needs within the limits of what our planet can provide, … there are huge opportunities to be gained in terms of connecting and motivating not just with employees, but with customers and suppliers," he says. "It's about unlocking whole new markets and value propositions."
CISL mainly works with banks and companies, with clients including ASDA, DSM, Lloyds and Anglian Water, providing an essential bridge between academia and business. It neither receives any central funding from university or government, but works with businesses who fund their full-time researchers, or fellows.
"That's great because it keeps us honest," Kellard says. "One of the things we pride ourselves on is that our research is both academically rigorous, but also very practical and applicable to the organisations with which we work."
Most of the work is carried out through leadership groups where businesses pay to join to cover the administrative costs. CISL also receives payment for its education programmes and advisory services on a fee for service basis.
"That's our business model in the way we meet our client's needs," he says. "We have incredible centres of excellence at the university," he says, adding that Cambridge University as a whole is focused on creating a low carbon future, with initiatives such as Cambridge Zero, which is aimed at "creating a net-zero future".
Crucially, CISL is also putting its money where its mouth is, moving to a new ground-breaking, climate-friendly accommodation in Cambridge in early 2022.
The Entopia Building, a retrofitted telephone exchange will be transformed into an ultra-low carbon sustainability hub and a new home for CISL as it scales up business, government and academic leadership, collaboration and innovation. CISL claims the office building will set new standards for low energy use, carbon emissions and impact on natural resources as well as user experience and wellbeing measured against multiple benchmarks.
"We are transforming a 1930's telephone exchange in central Cambridge into a world-leading example of an ultra-sustainable retrofit," Kellard says. "Working with our committed project team we have set the highest standards for an existing building, with aims to achieve multiple sustainable building certifications."
These include BREEAM (Outstanding), the Passivhaus 'EnerPHit' standard, and Well (Gold) certification, alongside the application of 'circular economy' principles which will minimise the volume and impact of man-made resources used in the building. 
As well as being CISL's home in Cambridge, the building will serve as a virtual hub for its international offices and its global network. It will also host The Canopy, an Accelerator and Sustainability Hub which will support innovative startups and small businesses. CISL also plans to create a centre in China to help incubate and promote startups there, as well as in the UK.
"It will be the most highly rated retrofitted building in the country," Kellard says. "It will become a really exciting example that many other businesses can use for where they're retrofitting their businesses."
In the future, CISL will continue its policy of combining improvements to its own sustainable working practices, including its travel, with advising clients and contributing to sectoral changes.
"We'll explore the role of businesses in creating a zero-carbon, restorative of nature, and a socially-inclusive society," Kellard says. "We'll continue to work with our partners – both clients and our peers – who are also looking to try and advance these questions."
One example of this is a consultation process that CISL has been involved with to develop a British Standard as to what constitutes a sustainable purpose-led business.
"Up to now, there's been a forest of different standards and approaches," he says. "We are all pretty much saying the same thing. So, can we just capture that? That's what we've done."
CISL has just entered the public consultation phase, which Kellard says is the first step in creating a principle-based standard.
They are also carrying out research about what sustainable business means for individual leaders, and have produced a guide to help businesses achieve net-zero. "What are the capabilities needed for individual leaders to shape organisations to deliver a sustainable future?" Kellard asks.
For him, this is not just a key question for CISL, but also for the planet.
"It's often called the decisive decade because from a climate perspective if we don't make major changes this decade, we're essentially running out of time," he says "So we will continue to find strategic partnerships to work with others, to deliver the shift to a sustainable economy."
It is a sentiment that would be echoed not just by the leaders present at COP26, but also many of the demonstrators at fringe events across Glasgow. Kellard, for one, believes it represents the future of business in a low carbon world.