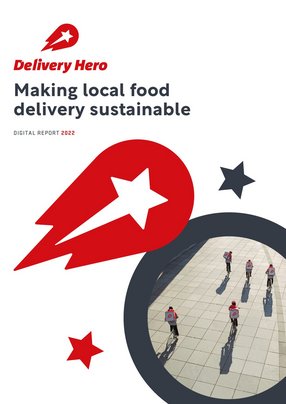 Delivery Hero: making local food delivery sustainable
Making local food delivery sustainable, Jeff Oatham explains how Delivery Hero is reducing plastic in its ecosystem by sourcing more responsible packaging
Over the past few years, local food delivery has been booming. It has become an integral part of city living and is responsible for a significant portion of restaurant deliveries.
During the coronavirus pandemic — when food production and delivery was one of a few essential services to remain operational — restaurant-quality food deliveries have come a long way, and have increased as a result. According to McKinsey and Co., the food delivery sector is valued at over US$150bn; the figure has doubled since the onset of COVID-19 and tripled since 2017.
Now that city-dwellers have access to multiple types of food, at the click of a button, without having to leave the house (or the office in many cases), what will determine which platform they decide to order from?
With a global supply chain and client base, Delivery Hero has cemented its position as a leader in this space and is looking to provide more sustainable solutions for food delivery and create more options for consumers. Founded in 2011, the company was formed from an online food ordering service that was founded in Berlin by Niklas Östberg, the firm's Co-Founder and Chief Executive Officer.
Operating in around 50 countries across the world, Delivery Hero takes great responsibility for the impacts of its global operations on the environment, but also those hired by the company to carry out exceptional services.
In conversation with the company's Senior Director of Sustainability, CSR and Safety, Jeff Oatham, he explains the initiatives the company will implement and divulges the team's crucial role in Delivery Hero's success.
Initiatives for a sustainable ecosystem
As with many sustainability initiatives, innovation is critical both for meeting the needs of consumers — with generations becoming increasingly more conscious of their purchasing habits — and to reduce the environmental impact of the overall business and supply chain.
Delivery Hero launched a Sustainable Packaging Programme that will benefit its restaurant partners for a few reasons; they will have access to biodegradable packaging, increase appeal to sustainability-conscious consumers, and its partners will be able to source the solution through their established partnership. This is just one of the many ways in which the company is reducing its negative global impact.
"For us, it is about looking, understanding our climate footprint and impact, and then figuring out how we can make the biggest difference on that?" Oatham says. "Our long-term agenda is to build a company we can be proud of, and we believe we can do that by addressing and having a material impact on climate change."
"We've been rolling out carbon measurements on a regional basis over the course of the last three years. This spring we'll have our first kind of global footprint and that's across Scope one, two, and three. It's our entire emissions footprint," Oatham explains.
"We know from our data measurement that the biggest drivers of our footprint are packaging and the vehicle emissions during delivery," he says.
Packaging products for modern consumption
During the conversation with Oatham, packaging was one of the main talking points, which is the company's response to climate change and the changes in consumer mindset around environmental responsibility. Recognising the saturation in the market for restaurant-grade plastic packaging, Oatham says: "We needed to find a type of packaging that could compete against plastic in the eyes of restaurants and customers, but we also wanted to meet sustainability requirements."
Oatham continues: "Packaging needs to be food safe. We also wanted to make something that was plant-based, compostable and that would [withstand] the rigours of food deliveries. So, being moved around in the bags on the back of a bike or motorcycle."
Delivery Hero also explains that "a lot of the packaging out there will have certain additives in it," which has repercussions for things like food safety. "It affects things like compostability and these are some things that we are able to overcome, by working with our packaging partners." By launching its own global Sustainable Packaging Programme Delivery Hero aims to provide local restaurants with eco-friendly packaging solutions at a competitive cost. Piloting the concept in Austria, Chile, Hong Kong, Hungary, Qatar, Singapore, and the United Arab Emirates, the company plans to expand the program to more markets in 2022.
"What we want to try to drive is sustainability across the ecosystem,and our restaurants are key to that."
"Understanding from them 'what are their interests? What's their ability to tackle and challenge some of these issues?' We've worked with some of them to understand the feasibility of rolling out certain initiatives and what works in practice."
Technology insights drive sustainability initiatives
As a technology company at heart, one of the most obvious ways to incorporate sustainability into the platform is by leveraging Delivery Hero's current capabilities and the expertise within its technology and product team. With "thousands of really talented engineers and product specialists," Oatham delves into the organisation's intentions to utilise the full extent of the team's capabilities to continuously improve its consumer experience while also creating a more sustainable solution for delivering goods to them.
"It was with the product teams, with whom my team and I worked, that we were able to look together at how do we put in place a better system to get insights into what customers think around packaging or how they are approaching sustainability? How do we develop new features within the product to connect customers to causes they care about? How do we look at designing features that would enable restaurants and vendors to take sustainable actions?," he says. "It's really [about] how we leverage those internal capabilities and systems."
Diversity, equity and inclusion have also played significant roles in developing the company as a whole. "One of the great milestones for the business overall last year was that we were among the first DAX40 companies to put in place a diversity and inclusion advisory board," Oatham says. "So, we have that at the highest level of governance, supporting our management to understand the diversity and inclusion issues on a global basis."
Meeting the demands of the coronavirus pandemic
"I led the coronavirus task force and the crisis response with some peers from March 2020, and that was an intense period, but also really gratifying to know that we are helping to keep our fellow employees safe."
During a period lacking knowledge and certainty, coronavirus and the issues it raises have been one of the main challenges for Delivery Hero. But, Oatham acknowledged that many companies faced struggles during that time.
"It was challenging in that we were having to create things at the same time as learning something or not knowing anything. I don't think that is an issue or a challenge that's unique to Delivery Hero," Oatham says.
Tackling future sustainability challenges
As positivity looms around the corner in terms of the coronavirus pandemic and how it is affecting businesses and buying habits, one trend that will remain is the high demand for local delivery services.
When asked about the challenges that await, Oatham says, "the next big challenge that we are looking at… is on the logistics and delivery side."
"When we look at our footprint we know that it's packaging and vehicle emissions" that must be addressed. He explains that Delivery Hero is considering how it will improve the sustainability of its vehicles through emissions reduction initiatives. "Tackling such major challenges such as reducing emissions from vehicles can only be done through multi-stakeholder partnerships."
Oatham elaborates on this. "When we look at the electrification of transport, that is a challenge because change must be driven within many different countries while working in partnership with a variety of organisations. Big issues must be addressed including infrastructure and encouraging use of electric vehicles."
"We will be looking for partners who are able to help in the context of reducing emissions from transport and who can do that at scale across a range of markets, in different parts of the world."
Aside from the company's sustainability agenda, it will continue to expand its offerings across the globe through its quick commerce developments. "Last year we launched our logistics-as-a-service in 25 markets."