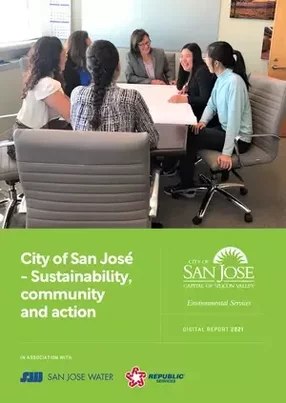 A green vision to inspire and a reality to live by
City of San José is a trailblazer in promoting cultural shifts within its communities by providing opportunities for residents to embrace sustainability
When you talk to Kerrie Romanow, you can tell why she holds the title of the City of San José's Chief Sustainability Officer. She gets the climate emergency. She gets the need for community engagement, and the reason you know she gets the situation is because she regularly explains that 'everything has to be done faster'. 
Kerrie is not a person who is satisfied for San José to be a pioneer for societal, cultural and environmental change; she wants 'progress' itself to speed up. Indeed, in the race against time, she has found the perfect philosophy to live by and, through the momentum created by projects like 'Climate Smart', the challenge is to convince everyone else too.
She knows, however, that the people of San José have already come a long way and that many of the foundation stones have been laid for the future. "One of the cool things about San José is we've grown our commitment to sustainability over the last decade," she enthuses. "Having someone in the organisation specifically tasked with leading, and being accountable for, our sustainability initiatives is exciting, and I'm proud of our city for moving in that direction."
Kerrie is also immensely proud to live in the city and, in doing so, is able to live, breathe and participate in the sustainability initiatives in a way that is completely authentic. Her experience in both the private and public sectors has given her a wide frame of reference and experiences she can pull on when dealing with the nuances of environmental service implementation.
"By being a resident of San José, you have to be acting sustainably at all times. Otherwise, someone's going to call you out!" reflects Kerrie. "Being in the community reinforces my commitment in a personal way and reminds me that young people – including my own 17-year-old daughter – deserve to have a great future."
Street cred
California has always been the spiritual home of cool 'movements', whether it be the beatnik generation or surf culture, and upholding green credentials is no different. Indeed, the state is playing a pivotal role in pushing pro-environmental paradigms into the mainstream. 
Kerrie has witnessed the remarkable incline of sustainability: "I'm certainly glad that being sustainable and green is viewed as cool, and I do think that is an important element of it. The public has expressed their interest and their desire, and companies have listened to them and responded accordingly. Some companies simply know it's the right thing to do, and by leading in that way, they naturally draw customers in. Consequently, there's a really interesting push and pull dynamic."
Kerrie is wary of too much high-fiving, however, and knows that corporate awakenings, however impactful, come with a caveat. "I think it's been an evolution, but we're still not doing enough, fast enough," she insists. "We've got to apply more pressure to companies, cities and municipalities, and then make it even cooler, so even more people believe in it for the right reasons. Not everyone's on board with climate change, but there are a lot more than there were 10 years ago."
Change in perception, attitude and approach have been exponentially increasing, even for a free-thinking city like José. In 2011 there was little environmental advocacy but, a decade later, that has all changed. One of San José's pivotal goals, when it started Climate Smart, was to get the community to fundamentally shape that movement and, ultimately, create the sense of togetherness and solidarity which is so fundamental to sustainability. 
"I'm proud that there are several very active, very vocal and very influential community groups," she says. "I'm super excited that they're showing up to council meetings and telling me I'm not doing enough. By demanding more, it demonstrates that we're getting the right folks elected, and the community feels motivated to express themselves."
Something in the water
Among the initiatives in San José, one, in particular, flows through everything – quite literally. The city runs the largest tertiary treatment facility west of the Mississippi, discharging into just a few feet of water, meaning what it produces has to be exceptionally clean. It's a mission that has many moving parts and represents what can be achieved if collective minds are willing.
"We are now diverting about 20 million gallons a day into our South Bay Water Recycling system," enthuses Kerrie. "It has become one of the state's largest recycled water systems, and we're looking to continue expanding it in order to supply all the large parks, schools and golf courses in the community. Getting those big hitters not to use portable water is a key initiative."      
San José's recycled water operation has also been boosted by the sustainability vibe sweeping through the city – to such an extent that it no longer has to be subsidised and is, essentially, 'running on its own', which is very rare for such a system. Kerrie and her team are hoping for an expansion soon as the current operation has been so popular it is oversubscribed. 
From a wastewater standpoint, San José is looking to hit the ultimate home run of powering itself. "We are now about 65% self-powered and, in the next 5-6 years, we'll get to 100%. It's vitally important that we're using all of our own systems efficiently and also installing systems to power ourselves."
Totally energised
The City of San José will also transition how it handles biosolids, of which it produces 120,000 tonnes a year. These biosolids are in the process of being solar dried with a view to transitioning out of that stage and into a fertiliser plant, which is currently being procured. The treated biosolids will then be used beneficially on a localised basis. 
Kerrie explains why this dynamic vision of circular sustainability has such an impact: "If we didn't complete the circle, we would have been transiting 15 trucks every day into the Central Valley, and the greenhouse gas emissions from that would have been enormous. So we have re-tooled, leveraged new technology and created new opportunities."
San José's wider energy initiative ignited three years when it started 'San José Clean Energy' – a community choice aggregation energy programme within the city that gives residents the option of 100% renewable energy at an affordable price. The City is also pursuing building electrification and the electrifying of vehicle fleets. "It's about gaining control and, as a result, we've moved to 100% renewable and 100% carbon-free. That's one of our biggest goals taken care of."  
Such giant leaps of faith take courage, and Kerrie knows that in the diverse people of San José, she has a community willing to take responsibility. "We are super lucky in San José," acknowledges Kerrie. "We have a really entrepreneurial community, and our local government is very open to innovation and new ideas."
This fruitful spring of optimism also extends to partnerships and joint working, with businesses regularly pitching ideas. The first dry anaerobic digestion facility in the United States is already processing organic material from the city's commercial solid waste system. "That was because Zero Waste Energy Development [ZWED] came to us and said, 'Hey, we'd like to partner with you on this', enabling us to form a public-private partnership," explains Kerrie." 
"Folks know that we want to move the needle, we want to take risks, and we really want to make a positive impact. The message is clear, we're open to ideas and innovation, and we want to see where those business levers make sense for the environment and for their particular business model," she adds.
Next-gen
With all the city's initiatives, it's essential that young people are invested in sustainability, but Kerrie is confident that the future is in safe hands. "I think the next generation is much more comfortable with walking, taking Uber, and they're not caught up in our obsession with 'owning a car' and meeting somewhere 30 miles away," concludes Kerrie. 
"The key aspect with young people, however, is their desire to do good – to ensure that people, animals and the environment are cared for. They have a better connection to that belief system and are more thoughtful about all people. I think that they're eventually going to take the baton and surpass us, and that's super exciting, but we still have to get moving. We can't wait ten years until they're ready to take it!"
That's typical Kerrie, getting things done, motivating people to find solutions and, yes, speeding things up. And she's right. This is a job involving all of us, with no endpoint and absolute reliance on industriousness, humanity and an all-encompassing appreciation of our responsibilities.
The City of San José is making its mark in a deeply profound and impressionable way, becoming a template for sustainable living. For it to accomplish its long-term missions, it needs cities to follow its example – not just in the United States but throughout the world. 
Needless to say, it can't be put off until tomorrow. It has to happen today.