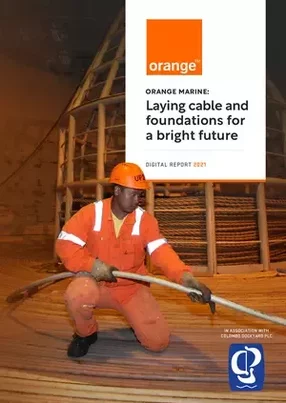 Orange Marine – laying cable and foundations for the future
Orange Marine uses a fleet of sophisticated ships to install global cable networks, galvanise the future of communications and uphold sustainability as it.
In the modern world, making a video call is becoming second nature. But how often do we consider how 'the magic' actually happens – how someone in a kitchen in North London can see, and talk to, someone in a Brisbane basement? The truth is – we don't (generally speaking).
Many would guess that it's something 'in the air'. In truth, almost every call, WhatsApp message and video conference relies on submarine cable installed by Orange Marine. To put it into context, this is man-made cable, laid at the very bottom of the seabed; a very real, tactile operation carried out by a crew of men and women navigating the high seas. Amid the digitisation of our world it is a refreshing reminder that 'actual' things are still happening!
Didier Dillard, Orange Marine's CEO, is a veteran of submarine telecommunications and has been in the industry – fulfilling various other roles – for several decades. Consequently, the sea is in his blood and the installation of cable has become a way of life – a way of life that has been significantly altered by the era of sustainability and the myriad responsibilities that come with it. Especially in an all-encompassing international cable laying operation.
"Firstly, it is important to note that, materially, submarine cable doesn't actually have a significant environmental footprint," reflects Didier. "These cables are designed to last at least 25 years. They are robust, efficient, don't melt and, at the end of their operational usage, we can easily recover them. So, the cable by itself is already environmentally friendly."
Creating a global network 
Although cables have impressive longevity, cable installation and cable repairs need vessels and these impressive nautical creations require fuel – for the time being, it's an occupational reality. At Orange Marine, however, the company has a strategy to make the running of its fleet as sustainable as humanly possible.
Didier says: "We have made sure that we use low-sulphur fuel, while also incorporating hybrid engines, which means our fuel is used only to produce electricity. We try to optimise the exact number of engines that are necessary at any given point. In terms of sustainability, we strive to be at the forefront of all regulation in relation to waste waters and oils. Ultimately, we always need to have the best equipment – that's something we are constantly aspiring to."
Orange Marines fleet of cable ships are specifically produced to do the job of installing or repairing submarine cables. They are uniquely robust vessels capable of navigating oceans throughout the world, even in the most adverse weather conditions. The shorter maintenance vessels are constantly on call, ready to intervene in case of cable breakage, while the longer, highly sophisticated installation vessels are between 100 metres and 140 metres long. 
"To give an example," enthuses Didier. "Our 'René Descartes' installation vessel is capable of laying a huge network of cable in one load. It means that it can carry upto 8,000 kilometres of cable onboard in a single operation. This vessel is currently in the middle of the Pacific, laying another transpacific cable."
The mighty installation vessels also uphold efficiency by towing sea ploughs. This is the powerful equipment that is used to meticulously bury the cable in the often rock-hard seabed. It is a difficult job which is undertaken methodically and, if necessary, trenches are dug to depths of two or three metres in order to accommodate the cable.
Ships shaping a sustainable future
Orange Marine is currently overseeing the most ambitious ship build in its history and many of the new features being rolled out are testament to the company's focus on low carbon output and investment in long-term sustainability across all its operations.
"When you commission a new ship there is a full range of tests, including at sea, where you need to ensure that all the specifications are met," Didier explains. "There are not many cable vessel builders around the world, so we have selected a shipyard with vast experience."
The partnership with the designers has been essential to the construction of a trailblazing vessel, as Didier notes: "We spent a lot of time with the shipyard trying to find the best way to optimise fuel consumption, CO2 emissions and overall performance. The ship also requires an ability to operate everywhere in the world."
"In order to refuel effectively and efficiently we have two locations in France – one in Brest and the other on the coast of the Mediterranean. In both cases, they are equipped with shore power, which means that the vessels get electricity directly from the bases, not from their engines," he adds.
Culture shift as industry evolves
Cable laying is an old industry negotiating (quite literally) a rapidly transforming world. While system, operation and hardware upgrades have been essential, there has also been a need to change mindsets in terms of climate change. Rebooting belief systems has fundamentally transformed companies, making every individual think differently about the environment in which they work.
Didier is convinced that there has been a very positive cultural shift at Orange Marine and throughout the industry. "There are already protected areas in the seabeds, so, when you design a route for a new cable, you need to get permission from the local authorities. We now have constraints linked to biodiversity and marine life that were not significant 20 years ago." 
"We recently complied with some very strict restrictions in terms of when and where we could install cable in French Guiana and French West Indies. These regulations were in place specifically to avoid turtle nesting season, and that gives you an idea of where the industry is going."
Beyond changing policy, Orange Marine invites onboard sea mammal observers to accompany their operations, presenting them with opportunities to witness animal behaviour across the world's oceans. The company is also involved with the 'Argos system', which deploys and collects data from the sea's temperature. It is an initiative that the company is not obliged to participate in, but does demonstrate an expansive dedication to improving the environment.
"We are happy to do it whenever we can," insists Didier. "It's a new and increasingly visible dimension within our activity. At Orange Marine we are always trying to find new ideas or new things that have a positive impact on society."
Igniting communication through cable
Submarine cables form the critical network that maintain personal and professional relationships – they hold families together, while enabling the international corporate infrastructure to flourish when – 25 years ago –  it wouldn't have been possible. 
"You cannot use the internet now without submarines, either for professional or personal usage. It's just impossible," Didier points out. "And it's physical stuff. I really like this compelling combination of new technologies and traditional onboard operations. You will always need to have seafarers capable of handling the cable, cutting it, joining it and manipulating it." 
"It is the same type of skill that would have been used more than a century before. It's not only software or artificial intelligence that holds the key to sustainability. You need to have real people," he adds.
The international pandemic has brought the role of submarine cable networks into the sharpest of focus – video conferences have become the fabric of our lives and, consequently, millions of miles of travelling have been taken out of the equation. The crisis has actually demonstrated what is possible by using remote technology.
"Most of the video meetings that have taken place globally have used submarine cable," says Didier. "It enabled the world to continue to work, even if people stayed at home without commuting. By maintaining communications between continents; between countries and between islands, I think that we've become a pivotal part of the solution."
In the past 18 months it has become obvious that submarine cables are a critical asset for all countries and the entire world. Even small islands now receive their connectivity through submarine cables. A prime example is Saint Helena – in the middle of the Atlantic – which has been connected by Orange Marine in the last couple of months.
There are several notable tech companies that also know the vital importance of submarine cables, especially when it comes to economics and rapid responses. "Our industry has had huge investment from Google, Amazon and Facebook. It's interesting to hold discussions with these companies because they keep telling us that they will require many more cables in the future," says Didier. 
"When you add up these big players with the wider needs of the global community and the all-encompassing appetite for telecommunications, our industry's future is in good health."
In many ways, Orange Marine has enabled the future to be brought forward, but it couldn't have come to fruition without the craftsmanship and toil of human beings on the high seas. And in a world of digitisation it is satisfying to know that humanity is still taking centre stage.