Diversity & Inclusion (D&I)
BT unites with England team against online hate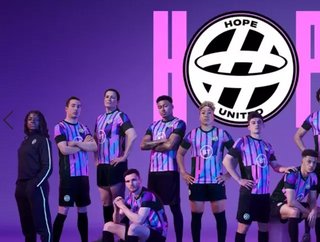 BT internet stands against the verbal & online abuse and graffiti aimed at England's diverse football squad - alongside most England supporters
England manager Gareth Southgate has described the racist online abuse directed at his team as "unforgivable". After England lost to Italy in the Euro 2020 penalties, racially abusive posts attacked players Bukayo Saka, Marcus Rashford and Jadon Sancho.
BT, a sponsor of the English Football Association, has come out in support of the diverse team and called for unity with its group Hope United. According to BT, 1 in 10 players have received online abuse over the past year. Hope United was formed for top footballers to come together to tackle online hate.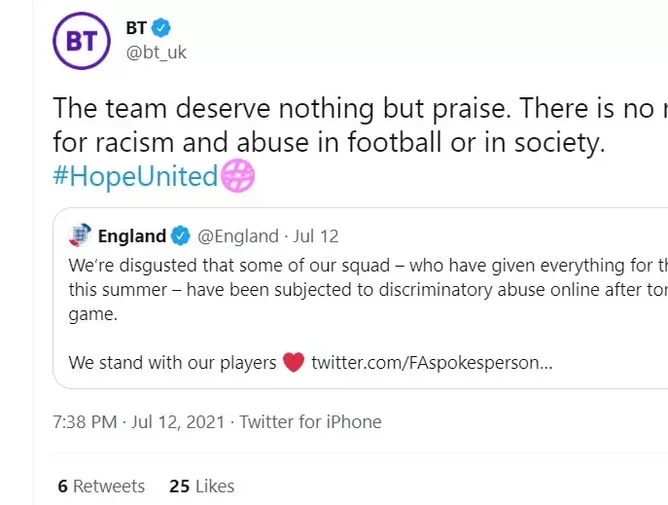 BT's Twitter account 
BT to become a fully inclusive organisation in its words and actions
The Hope United team offers fans the chance to learn how to tackle online hate with digital skills, ranging from topics such as:
How to be a team player online

How to support kids online

What is hate crime?

Being a good digital citizen
"My personal commitment to this agenda is resolute", said Philip Jansen, BT Chief Executive. "I see it as fundamental to the attainment of our purpose – to connect for good. BT will become a fully inclusive organisation." 
Following England's loss, not all fans are on board with diversity or unity. 
Online racial abuse is not tolerated by social media
Social media companies scrambled to remove the offensive content:
Twitter has removed over 1,000 posts in 24 hours, which the company found to have violated its user policy 

A number of Twitter accounts have been permanently suspended 

Facebook (which owns Instagram) has attempted to keep up with removing abusive content, but has appealed to users to use the tools on Facebook for reporting and blocking abuse when they see it. 
In Manchester a mural of Marcus Rashford was defiled with lewd graffiti. Since the age of seven, Rashford has been a dedicated Manchester United player and the city has come out to support him.
Locals covered up the vandalism with black paper and others used this to write messages of support. The mural has now been cleaned and written messages of encouragement continue to arrive. 
Ed Wellard, who commissioned the mural, has not called for those responsible to be punished, but educated instead. 
"There's a lot of solidarity to these players, they've been fine role models on and off the pitch", Wellard said.
Manchester Police are investigating the incident.