Diversity & Inclusion (D&I)
Estate agents Savills suspend employee for racist Tweet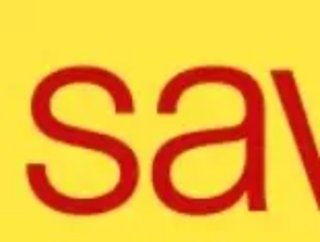 The England team was celebrated for its diversity, before and after losing to Italy. Luxury estate agents Savills have suspended an agent for racist Tweet
Many businesses claim to have a zero-tolerance approach to racism. The luxury estate agents, Savills, have put their words into action by suspending an employee who posted racist Tweets about the England team following their loss to Italy on Sunday in the Euro 2020 final.
"Savills abhors and has zero tolerance to any form of racism and racial discrimination and is appalled by the racist comments in these tweets", the company said in a statement. "Savills is immediately investigating and will take appropriate action."
Savills is headquartered in London and has a revenue of £1.7b.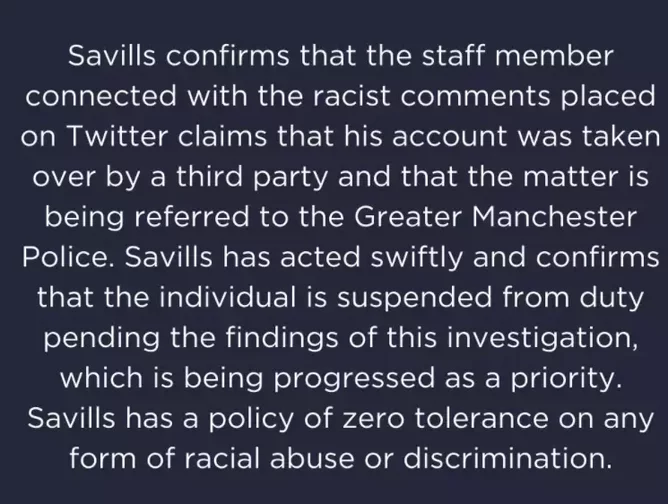 A Tweet from the official Savills Twitter account
As the diversity of England's Three Lions inspires a nation, racism is fiercely rejected
The now deleted Tweet was reported to the social media titan. It was also saved as a screenshot by other Twitter users and circulated. 
Dedicated Twitter users also scrolled through the accounts history, where other Tweets were discovered to include racist language. 
The account has now been deleted. 
The behavior of some fans has been especially devastating as the England squad were identified for their diversity. Migration Museum had discovered that over half of the 26-man squad had at least one parent or grandparent born outside of the UK.
"We could not be clearer that anyone behind such disgusting behaviour is not welcome in following the team", said the FA. "We will do all we can to support the players affected while urging the toughest punishments possible for anyone responsible."
Prince William, who had attended the match with his family, also took to Twitter. "I am sickened by the racist abuse aimed at England players after last night's match. It is totally unacceptable that players have to endure this abhorrent behaviour. It must stop now and all those involved should be held accountable."
UK estate agents condemn abuse
This is the second time in two weeks that an estate agent has lost their job due to threatening behavior. 
Lewis Hughes, 24, was branded a "despicable thug" by Prime Minister Boris Johnson, after Hughes shared a video of himself and a friend manhandling Professor Chris Whitty, England's chief medical officer, as they demanded a selfie. 
Hughes was sacked by Caplen Estates Agents after the video went viral. 
"I've paid the price with my job", Hughes told The Sun. "I absolutely apologise for any upset I caused."