Giles Miller Studio and Grind launch virtual gallery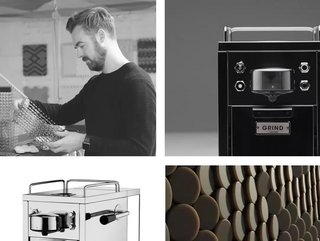 Giles Miller Studio and coffee innovators Grind launch an online gallery and coffee bar at London Design Festival 2021
In life, work, diet and relationships sustainability is a ubiquitous consideration. This belief system also extends to other vital arenas like love, art and, of course, coffee.
For London Design Festival 2021, design and architecture studio Giles Miller Studio (GMS) and cult London coffee brand Grind are collaborating on an immersive virtual gallery space which is sustainable, dynamic and environmentally innovative. 
This year's festival will see the launch of Giles Miller Studio's 'V-Gallery'; a globally accessible online space built to showcase the studio's shape-shifting, architectural and sculptural works in a revealing new format. It will also host a virtual coffee bar – created in collaboration with Grind – which represents the first in a revolving series of events and content in the space. 
Produced especially for this year's Design Festival after a year in lockdown, the work reflects the way Giles Miller Studio, and partners Grind, have adapted to changes over the last year, as well as the challenge of becoming more sustainable.
Technology has now evolved sufficiently to enable the creation of an authentic gallery experience without artistic compromise. Indeed, GMS worked with interactive architectural visualisation company Lucid Environments to design the gallery – allowing clients, agents and visitors the chance to engage in new work in a concise and immersive way. By embracing the digitisation of exhibits, the experience also considerably reduces most of the carbon emissions associated with travel and transport.
Every good gallery has a befitting café where visitors can meticulously deconstruct what they have seen and, mercifully, V-Gallery is no exception. The sculptural coffee bar installation features Grind's own pod machine, designed to get the best from their compostable Nespresso® pods and inspired by the Italian espresso machines used every day in their London drinkeries. Guests can be experience the installation virtually on devices anywhere in the world – from Milton Keynes to Manhattan. 
The sculptural installation also features a new coffee tile developed by Giles Miller Studio in collaboration with Italian material innovation experts High Society. Furthermore, the tiles are created from coffee industry waste in the UK – evidently, modern art is rubbish after all.
Giles Miller Studio has created acclaimed and award-winning work for some of the world's most prestigious brand names across a variety of industries. The scope and scale of the studio's work ranges from miniature individual components to artworks the size of buildings.