Man City and Xylem – united in call for 'water heroes'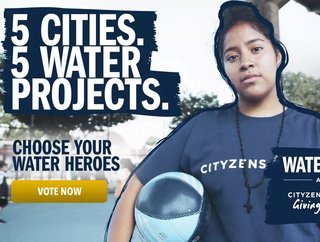 Man City and Xylem call on all football fans to vote for top 'Water Heroes' tackling water challenges around the world
Manchester City Football Club's global community program, 'Cityzens Giving' and global water technology company, Xylem, are calling on football fans to vote for their 'water heroes'– one of five teams of young leaders who are working to tackle water challenges in Cape Town, Sao Paulo, Shanghai, Mumbai and New York City.
Earlier this year, Cityzens Giving and Xylem launched the Water Heroes Academy, a network of projects to educate and inspire young leaders to help solve water challenges in their communities using the power of football. Now, from November 8-21, fans can choose their Water Heroes by voting for their favorite water project.
Projects include exploring solutions to urban flooding and water pollution in New York City; improving water access in underserved communities in Cape Town and Mumbai; and advancing water sustainability education in Shanghai.
Sustainability goals
The top-voted project will win the opportunity for three young leaders to travel to Manchester for a once-in-a-lifetime experience.
This will include watching Manchester City in action at the Etihad Stadium, learning more about water challenges and solutions, and receiving further training on using the power of football to improve the health and wellbeing of young people in their communities. 
In addition, each Water Heroes Academy project receives seed funding, educational tools, training and mentoring from Xylem and Cityzens Giving, giving young leaders all they need to create their own unique programs.
Tom Pitchon, Director of City Football Group's global foundation, said: "We are excited to be able to shine a light on our young water heroes and to celebrate the positive impact they are having on their communities around the globe, as part of the Water Heroes Academy initiative with Xylem. We hope their stories will capture our fans' attention and inspire them to get involved.
"These inspirational young leaders and their projects are a powerful reminder of the passion, focus and creativity the next generation is bringing to the world's water challenges," said Joseph Vesey, Xylem's Chief Marketing Officer.
"Through the Water Heroes Academy, and our broader partnership with City Football Group, we have a unique opportunity to spread the word on water issues and encourage more young people to take action towards a sustainable water future. Now, it's up to the fans to vote!" he enthused.
Manchester City's involvement also ensures that sustainability goals have never been quite so literal.