Microsoft continues climate support with Etihad partnership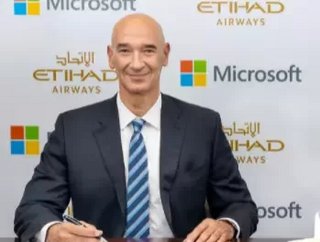 Sayed Hashish emphasises Microsoft prolonged support for climate change following a partnership agreement with Etihad Aviation Group
While many organisations pledge their allegiances to governmental climate schemes, consisting of net-zero emissions and other climate goals. Although agreeing to these targets is quite straightforward, the actions that are required are not so, and large corporations will move closer to the public eye as consumers and businesses become more committed to mitigating climate change. The COP26 Climate Conference has demonstrated just how important climate change is as thousands attended the event in Glasgow and millions watch from across the globe. 
Microsoft has shown its support for the conference and the overall climate agenda. As a principal partner of the event, it dedicated guest speakers, moderators, and panellists to discuss key topics, such as carbon accounting, the development of smart cities, net-zero initiatives and transformation, and many other crucial areas that must be addressed to meet the needs of the Paris Climate Agreement. 
It's not wasting any time supporting other organisations either. Microsoft and Etihad Airways announced a partnership that will drive the sustainability strategy for the aviation company, by supplying the latest tools and technologies to enhance its analytical capabilities and keep track of Etihad's carbon footprint. 
According to Tony Douglas, Chief Executive Officer at Etihad Aviation Group, innovation and sustainability 'are at the core of the business'. 
'Our continued partnership with Microsoft will support us in meeting our sustainability goals to reduce carbon emissions both in the air through operational efficiencies, and on the ground, through improvements in our back-office processes and technology infrastructure', Douglas says. 
'Etihad is aligned with the UAE's mission to conserve and preserve our environment for generations to come and we have made significant progress over the last two years towards our 'net-zero carbon emissions by 2050' goal with our sustainability portfolio. We look forward to working closely with Microsoft to enhance these developments'. 
Both organisations have also agreed to support each other in meeting their sustainability goals through any other means and acting as partners and thought leaders for other organisations in the United Arab Emirates (UAE), supporting the national sustainability agenda and the development of a digital ecosystem that will drive the use of data for carbon emissions reduction. 
'We are aligned with the UAE's long-term sustainability goals and practices to accelerate growth responsibly while fulfilling the nation's ambitious objectives', says Sayed Hashish, General Manager, Microsoft UAE. 'For more than a decade, Microsoft has been investing to reduce environmental impact while supporting the digital transformation of organisations around the world through cloud services'. 
'The commitments and investments we make are important steps in reducing our own environmental impact, but we recognize that the opportunity for positive change is greatest by empowering customers and partners to achieve their own sustainability goals. Therefore, this partnership with Etihad is incredibly exciting: by empowering more and more organizations with the right insights, we will be able to reach critical mass to reduce carbon emissions on a significant scale'.

For more emissions insights, check out the latest issue of Sustainability Magazine.