Procurement & Supply Chain Live – Meet IBM's Sheri Hinish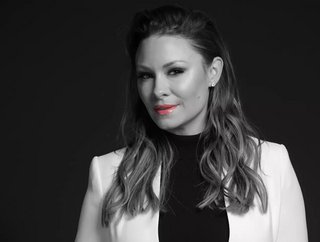 Sheri Hinish – IBM's Supply Chain Queen and Procurement & Supply Chain Live speaker – on how technology can make the world a better place
– Don't forget to register for our debut Procurement & Supply Chain Live hybrid event
Meet Sheri Hinish, IBM's Supply Chain Queen
You can't fail to notice Sheri Hinish. Whether it's hosting her own podcast, making guest appearances on shows as the self-monikered Supply Chain Queen, gracing magazine front covers, or making keynote speeches at industry events – brand Hinish is ubiquitous. That's good news for IBM, where she holds a convoluted title that encapsulates her multi-faceted role, and better news for sustainability aficionados everywhere. 
Having recently graduated from Harvard with a Masters in Sustainability, Hinish is a rarity to be cherished and championed – a senior executive who walks the sustainability talk. A poster person for diversity, equity and inclusion. A worthy cover star for our launch issue of Sustainability magazine.
Sheri shares exclusive insights on her career, what drives her, and how sustainability is good for business.
Q. Tell us about your career journey before arriving at IBM, which spans almost 15 years in supply chain?
I have a non-traditional career path that started prior to finding supply chain, which is actually a third (or fourth) career in my journey. I was an artist and a musician, then an entrepreneur and found my way into IT and supply chain when I was in the wholesale distribution of wine and spirits. 
I actually wanted to be a lawyer and at one point thought I'd run for President of the United States!? I've done many different things that now come together in a perfect Venn diagram, but there was no string theory in my career. I was curious and when I wanted to learn more about a topic or simplify a complex problem, I just jumped in.
I transitioned to supply chain consulting and worked with IBM independently before accepting a senior executive role leading the global sustainable supply chain and circularity offerings. 
You joined IBM full time in December 2020 with the title Global Partner and Offering Leader, Sustainable Supply Chain + Green Omni-Channel Supply Chain. Was that a reflection of the growing attention on sustainability?
Yes, the focus on building responsible, equitable and sustainable supply chains has grown exponentially. There has been such a demand from our clients that I've moved into another role across IBM's Supply Chain and Finance Transformation organisation leading the global sustainable supply chain practice across the centres of competency and ecosystem partnerships like SAP, Oracle, and Kinaxis. 
Pressures from consumers, trading partners, and investors are mounting where disclosures on carbon, climate, packaging, ethical trade, and so much more are no longer a nice to have but a regulated business requirement. 
IBM has been a champion for diversity and inclusion and as an environmental steward in technology and services for over 50 years. So when I decided to transition back to industry from independent advisory, there was an alignment of values and purpose, supported by IBM's deep research and technology that created a natural fit for what I wanted to do most – make an impact building sustainable supply chains in the world we share. 
It's an amazing feeling to wake up each morning and do exactly what you're meant to do on this earth and sharing this excitement with clients, partners, and other IBMers has been a bright spot coming out of COVID lockdowns.
Q. You wear many hats, from Supply Chain Queen to Supply Chain Revolution podcast host – how do you balance these? And how do you describe yourself to a stranger?
I feel very blessed and fortunate that I've found my ikigai [direction and purpose]. Looking back, the desire to do good and make the world better was always there, but it wasn't until the interconnectedness of supply chain and sustainable development that it made sense to me. 
The Supply Chain Queen brand is a bit tongue-in-cheek. I'm more of a rebel and it was a nickname given to me because I was able to be a bridge in really difficult transformations. The podcast has been an amazing opportunity to marry my former career as an artist and musician with my love for all things sustainability, circularity, innovation, diversity, and supply chain. 
There is freedom of expression, a more creative side of me, that the podcast and SCQ brand provide. From the creative content and videos shared, each picture, edit, and asset is made with care and love by me. When I first started the professional brand, it was to stand out and share my unique value proposition and PoV, and maybe even land my dream job. After about two years, it changed and I realised how much of an impact sharing on social media can have – from education and awareness to shaping the future of our domain, how we challenge, lead, and design a better world. I still struggle with unplugging and drawing firm boundaries, frankly because I don't see them. 
I love what I do and it shows up in all things, every touchpoint and interaction with the world. A personal goal for 2021 has been practicing self-care and prioritising time for myself. As a change agent and a mother of three, I'm often last on the list and the pandemic has highlighted that without making time for personal care, it takes a toll on you.
When I meet folks, I normally describe myself as an eternal student, because I read 2-3 hours a day about new and emerging topics and push myself to go to the edge exploring new concepts. I'm constantly learning from my kids, my colleagues, clients, students, and folks in my network who also challenge conventional thinking.
Q. You state that your purpose is to "make a meaningful impact for the clients, colleagues, partners, and communities I serve" – how do you do that?
I fundamentally believe that supply chains can change the world and the power of purpose can be transformational, both through the lens of business imperatives and how we meet the world through design, innovation, leadership, and stewardship. A meaningful impact means listening and learning, not having the answers, not being prescriptive. If you want to influence changed behaviour for a sustainable, equitable, and responsible world, this means that a ton of folks have to cooperate at scale and I've found that listening and finding common ground is an underrated skill in this space.
How do I start? First, walking the talk in my own life and leading with purpose and empathy, using the sustainable development goals as a roadmap for supply chains. I'm president of my community homeowners association. I volunteer through giveback opportunities in supply chain education and am super active in industry events and thought leadership opportunities, advocating for a better way. Whether through strategy, design, product innovation, leadership advisory, or sharing across digital networks, I impact lives at the intersections of all these touchpoints.
Q. You just graduated with a Masters in Sustainability from Harvard, that must have been an incredible challenge? What was the hardest part?
It has been an amazing experience to learn with incredibly talented folks who wake up with the same pulse to change the world. The most interesting revelation is no matter how much you learn, you realise there is so much learning left to harvest. It's leading sustainable transformation that leaves no one behind, making the change inclusive for everyone… that's the hardest in design and adoption.
After graduating in late May, I miss the structure and being challenged intellectually. Working full time with kids and going to graduate school – for the second time – really pushes you. You must want it and prioritise research, prioritise learning, else it unravels quickly. My children have been my inspiration throughout this journey. When 2030 arrives and we have a conversation without words, I want them to know that I did everything I could to make a difference.
HINISH ON IBM
"IBM isn't blue shirts and khakis anymore. It's ushering in new collar stewards and STEM professionals. IBMers are fundamentally good people and super smart. In the past, I haven't always felt supported and championed, part of something much larger at work. I have found that here. 
"It's an iconic brand that has been around for over 100 years, and is constantly evolving, reinventing itself. IBM's legacy will be sustainable technology, research (like quantum and carbon capture), and services that not only create sustainable enterprises, but transform the lives of people. That is why I work at IBM.
"A regenerative and climate restorative world is possible using technology and fundamentally re-thinking material flows, how we define value, and how we create access and opportunity in the future of work. IBM gets this.
"Sustainable supply chains provide credibility, strategically manage risk, and create healthy ecosystems – humanising the urgency of climate change and equity for all."
5 ways IBM helps companies with sustainability
Sustainability and thinking beyond net-zero to reimagining how we design, build, and operate is necessary for businesses to thrive over the next 30 years. Here's some of the ways IBM can help:
- A multi-enterprise business network that allows you to quickly engage with 800,000 preconnected trading partners.
- An intelligent fulfillment platform capable of performing reverse logistics, reducing waste and environmental impact of returned goods.
- Eco-friendly shipping options with an AI-empowered analytic engine for order management systems.
- A control tower that provides end-to-end visibility of inventory to make more informed decisions, reduce waste and optimise outcomes.
- A blockchain platform to build your own ecosystem with trusted supply chain partners and authenticate the origin, sustainability and integrity of products as they travel through the value chain.
Everything You Need to Know About Procurement & Supply Chain Live!
Supply Chain Digital and Procurement Magazine is debuting Procurement & Supply Chain Live!, the must-attend event of 2021 for today's procurement and supply chain leaders, and leaders of the future. 
Join global leaders from the world of procurement and supply chain on September 28 - 30, 2021 in-person or from around the world virtually for jam-packed days networking, sharing ideas, and soaking up actionable and unique insights to further your business and career! 
Whether you attend virtually or in person at the Tobacco Dock (London), discover more than just notes on a page, attending Procurement and Supply Chain Live! will leave you with insights on how companies like yours are tackling current industry challenges, the knowledge to develop an actionable framework to implement at your own business, and at the end of the three days real-world connections.
Take a look at the Agenda for our Three Day Event 
Wilson and Rock are not the only leading executives in the world of procurement and supply chain to be speaking at Procurement & Supply Chain Live! To see the agenda for the three-day hybrid event and who will be speaking, click here.
The event will include: 
Keynote addresses from respected industry leaders

Dynamic live roundtables (inc. Q&A)

Fireside discussions

Inspirational Speakers & Presentations

Extensive networking opportunities
To register for Procurement and Supply Chain Live, click here!