Amcor details the next steps for packaging sustainability
By David Clark, VP Sustainability at Amcor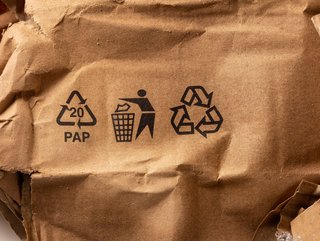 David Clark, Vice President, Sustainability at Amcor, and speaker at Sustainability LIVE, explains why circular packaging is key for emissions reduction
Having recently attended and spoken at the Sustainability LIVE, Future of Packaging and GreenBiz Circularity 22 conferences, it has been striking how conversations around sustainability have evolved.

What hasn't changed are the two main areas of focus. Reducing greenhouse gas emissions and increasing circularity across different industries – two objectives which are very much front of mind for packaging leaders.

It is clear from my discussions with other sustainability professionals across the packaging value chain that these twin aims are complementary and that there cannot be a trade-off between reducing packaging waste and reducing the carbon footprint of packaged goods..

Circular solutions with higher carbon footprints won't meet the commitments of brands and retailers and won't meet consumer expectations. Lower-emission solutions that result in more waste, whether packaging waste or waste across the supply chain, also won't be viable in the long run. Progress on reducing waste and emissions is urgently needed, and for solutions and products to be sustainable they must work on both fronts.

Circularity is a must in sustainable packaging
In recent years, we've seen tremendous progress from packaging producers and consumer brands working together to develop and adopt more sustainable packaging. Amcor has sought to lead the way in this effort.

The launch of our rebranding initiative, for example, makes it easier than ever for our customers to select differentiated and more sustainable packaging options. It highlights our most advanced solutions and performance characteristics across a wide range of material options, making the journey from research and development to product conception easier and smoother. This year we also committed to science-based targets and to achieve net-zero greenhouse gas emissions by 2050.

Achieving a circular economy means consumers having access to the public infrastructure in their area to be able to recycle or compost packaging. They also need to be informed as to the circularity of different types of packaging. Consumer education by packaging producers, brands and governments is key to maximizing the efficiency of recycling, reusing and composting.

With so many brands committing to making the packaging they use recyclable, local governments should ensure their role in waste collection and treatment is being carried out to improve recycling rates and circularity, matching the effort that has been put in by companies.

All factors that facilitate the journey to a circular economy should work in combination. Too many local governments still export waste rather than treating it.

A global outlook on circular economy
Independent consumer research of 12,000 consumers in the UK, US, Germany, Australia, China and Brazil found that 79% of consumers believe it should be the responsibility of the recycling service provider, typically local governments, to ensure that designed-to-be-recycled packaging can be recycled in their area.

The research also revealed that consumers in these markets want to recycle more than they currently do and that the greatest incentive to push consumers to do so is simply knowing the item will be recycled, ahead of other factors such as convenience or cash payments.

Consumer goods businesses are improving the circularity and carbon footprint of their products, and while there is still much to accomplish, the industry is most definitely making progress. It's important to consider that while packaging producers and consumer brands form half of the equation for tackling waste, consumer participation and waste management infrastructure form the other half.

Looking beyond 2025, progress will be measured on the road to a more circular and sustainable economy. The start of negotiations for a UN treaty for a circular economy based on recycled content, which Amcor supports, will hopefully play a key role in unlocking greater infrastructure.

The headway the packaging industry and consumer brands have made in recent years is remarkable. Leading companies have increased the use of PCR, introduced new products with better sustainability attributes, and have made commitments toward net-zero through science-based targets. This momentum must keep building but we should also now turn our attention to consumer participation and public infrastructure. The future of sustainability depends on all these fronts, and we should work together to overcome these challenges.