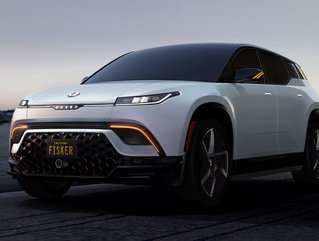 Fisker, the car company behind the Ocean electric SUV, has released its first ESG Impact Report – 100 days before production begins on flagship vehicle
Fisker, the automotive company behind the stylish Ocean electric SUV, has released its first ESG Impact Report.
Writing in the report's introduction, Chairman and Chief Executive Officer Henrik Fisker said ESG must be the foundation of any auto company striving to ensure the future of personal mobility.
"Fisker puts People and Planet first in everything we do," says Henrik. "We incorporate sustainability into our systems thinking, where environmental consideration permeates every decision. This mindset shows from even the most minor actions – we sourced the end bolts of theatre fabric, destined for the landfill, for our product reveals – to the most visible, such as the large solar roof available on the Fisker Ocean."
Henrik goes on to explain how the company has partnered with like-minded global suppliers that share Fisker's sustainability and human rights values.
Founded in 2016 by Henrik Fisker and Dr Geeta Gupta-Fisker, three principles drive Fisker – Design, Sustainability, and Innovation.
Fisker says it is committed to creating a clean future for all, and to building the world's leading, digital-first, next-generation mobility company from day one.
ESG governance at Fisker EV manufacturer – corporate overview
ESG runs through the entire business at Fisker, as illustrated in the following corporate overview:
Fisker appointed a head of ESG who partners with every business function across the company.
There is an ESG Working Group with leadership representatives from key functional areas, that meets weekly to guide strategy alignment and address new issues.
Executive leadership meets with the ESG director monthly to review progress of achieving long-term goals.
Chaired by the CEO, with the head of ESG as secretary, the ESG Advisory Council meets twice a year and has one member from outside the organisation and will add additional outside members with proven social and environmental impact track records.
The diverse Fisker Board of Directors oversees the environmental and social program strategy and reviews public disclosures.
What makes the Fisker Ocean electric SUV different
As well as the striking good looks and sustainability credentials, there are a number of features that make the Ocean stand out. For starters, there is the full length SolarSky roof that generates up to 1,500 miles of power each year.
And while Tesla has its Ludicrous mode, Fisker goes for the more laid-back California mode – where eight windows or panels (including sunroof) all open at the touch of a button to turn the SUV into something resembling a convertible. As Fisker says, you can even load a surfboard through the rear window. Another nice touch is the rotating 17-inch touchscreen, switching effortlessly from portrait mode for driving and controls to landscape mode for movies and videos.
"At Fisker, striving for innovation in sustainability is what we stand for. It is not only a brand strategy; it is why we exist," says Burkhard Huhnke, Chief Technology Officer. "In Engineering, we are constantly looking to improve the efficiency of our vehicles. We analyse the entire vehicle and materials manufacturing process to preserve the vehicle and its contents for as long as possible because how it's made matters.
"We understand it is not just what we create and how our products perform but also the raw materials and what happens to them when we are finished. This is the full life-cycle approach, and we will always strive to be the best and radically change the industry for the lightest footprint possible."
Fisker has sustainability principles at its heart
Based in California and founded in 2016, sustainability has always been a focus for Fisker Inc – with these key landmarks in the company's early years:
Carbon neutrality is in the founding announcement.
Fisker commits to non-financial ESG reporting before going public.
Fisker carefully chooses like-minded partners, including Magna with its carbon-neutral factory.
In 2021, Fisker announced an aspirational goal to create a 100% climate-neutral vehicle by 2027.
Fisker signed the United Nations Global Compact as a participant.
Fisker underscored its commitment to safety, releasing the world's first digital radar.
Fisker released its inaugural ESG Impact report.
Production of the first Fisker Ocean electric SUV is scheduled for November 2022. The five-seater Fisker Ocean Sport has a range of 250 miles and starting price of US$37,499. The Fisker Ocean Extreme has a range of 350 miles thanks to dual-motor AWD (similar to the Tesla Model 3).