Gerber's organic products will be carbon neutral by 2035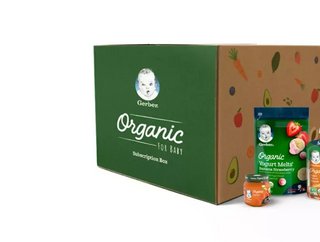 Gerber commits to carbon neutrality for organic products in 2035, as part of its climate forward ambition for cleaner, healthier products
Early childhood nutrition leader Gerber has announced its commitment to carbon neutrality across its baby food portfolio by 2035.
Gerber is the first U.S. company to announce its commitment to produce carbon neutral baby food products. The company was founded in 1927, Michigan, USA and has a revenue of $235m. 
Gerber will reach carbon neutrality through sustainable supply chain management offsetting projects
Key initiatives in Gerber's sustainability and carbon neutrality roadmap include: 
Optimising energy use and sourcing 100% renewable electricity for our own manufacturing facilities and distribution centers by 2025

Progressing our ambition to make 100% of our packaging recyclable or reusable by 2025 and continuing to reduce or eliminate unnecessary packaging material where possible.  

Assessing environmental impact as part of all new product innovations and introducing more products with plant-based protein across Gerber's Baby Food portfolio. 

Planting one million trees in partnership with the National Forest Foundation and One Tree Planted in U.S. National Forests across 10 states.  
Gerber's ESG and carbon neutral moves are good for baby and the planet
Earlier this year, Gerber embarked on an unusual ESG move, by appointing its first Chief Growing Officer: Zane Kahin from Florida, aged five months. The role of CGO is to represent every Gerber baby and serve as a reminder for the company in why they do what they do.
"For generations, Gerber has been committed to doing anything for baby, including taking action to help protect the planet, so babies can grow and thrive for years to come", said Tarun Malkani, President and CEO at Gerber. "The commitment we make today is the start of the next chapter in elevating the choices we give parents who are seeking food that is good for baby and good for the planet, harnessing the next generation of regenerative farming and sustainable business practices. Our commitment to carbon neutrality is an important step in our climate journey, which will continue beyond 2035."