How technology can enable a more sustainable agriculture industry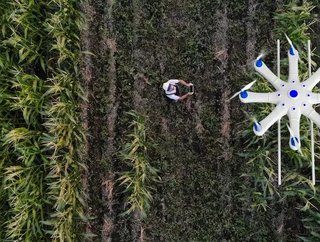 Against multiple risk factors and changing consumer behaviour, the agricultural sector's focus on corporate social responsibility is increasing. Is g...
Against multiple risk factors and changing consumer behaviour, the agricultural sector's focus on corporate social responsibility is increasing.
Is global agriculture fit for the future? According to the World Economic Forum, by 2050 the global demand for food will be 60% greater than today. The United Nations (UN), as part of its Sustainable Development Goals (SDGs), has earmarked ending world hunger and achieving food security as key priorities. 
There are further significant, and interconnected risks and impacts that the agricultural sector also faces. According to Simon Davis, Principal Sustainable Agrifood Consultant at global sustainability consultancy Anthesis: "65% of poor working adults make a living in the industry; it has been estimated to be responsible for 25% of global GHG (greenhouse gas) emissions and 70% of total water use; there's been a 60% biodiversity decline in the last 40 years; one third of all food produced is wasted and 46% of trees have been felled since humans started cutting down our forests, in large part to make way for agriculture." 
The sector also faces considerable pressure in terms of its transparency, largely driven by shifting consumer preferences for responsibly sourced and environmentally-friendly goods. The UK, for example, has seen shoppers transition away from typical agricultural commodities towards 'free-from' or alternative options that combine health, sustainability and quality.
It means that farmers worldwide must work harder and smarter in embedding corporate social responsibility (CSR) practices into their operations. Davis, who through Anthesis delivers financially driven sustainability strategies, strongly believes that sustainability is no longer a choice. "The agricultural sector is intrinsic to a wide range of global systems, societies and economies," he says, adding that those organisations that do not embed sustainability best practice into their supply chains will face "increasing risk of price volatility, security of supply, commodity shortages, fraud and uncertainty." To counter this, he urges businesses to develop CSR founded on a core set of principles that enable sustainable practices to be successfully adopted at a pace and scale that mitigates those risks discussed.
Data is proving a particularly useful tool in this regard. Take the Cool Farm Tool, for example, which is a global, free-to-access online greenhouse gas (GHG), water and biodiversity footprint calculator used by farmers in more than 115 countries worldwide to enable effective management of critical on-farm sustainability challenges. Member organisations such as Pepsi, Tesco and Danone aggregate their supply chain data to report total agricultural footprint against key sustainability metrics – outputs from which are used to share knowledge and best practice on carbon and water reductions strategies.
Andre Laperriere, Executive Director at Global Open Data for Agriculture & Nutrition (GODAN), says that, while many farmers have CSR strategies embedded in their farm management processes, others have "left it on the back burner". GODAN is a government-supported initiative advocating the proactive sharing of open data to provide access to information about agriculture and nutrition available to meet food security concerns.
Laperriere believes technology, particularly developments in artificial intelligence (AI) and data, will be game-changing for the farming industry in terms of building both sustainability and resilience. While open data has been used to streamline business operations for some years, he says its capabilities have yet to be fully considered in farming. "The potential for the use of open data to combat food issues is continuing to be recognised, not only because of the relevant historical data open data can harbour, but also its potential to help increase the production of crops," he explains. 
"With increased access and sharing of data, farmers will be enabled to harness the data for practical uses such as monitoring water supplies and anticipating changes in the weather. Through the use of satellite data, remote sensing and mapping, farmers, businesses and consumers in the agricultural industry can harness the most relevant and useful information to improve and adapt practices, make better decisions and ensure sustainability."
Data aside, Laperriere also stresses the importance of more traditional CSR-led agricultural practices. Organic farming techniques such as crop rotation, which can better care for the land, or improving soil quality, plant growth and natural diversity by natural animal raising are equally important, he says, as is being responsible locally. For example, small-scale farming can still use toxic chemicals and not necessarily follow the same rigorous standard when it comes to areas such as water usage.
Whether local or global, however, the onus on CSR has never been greater for those in the agricultural sector. Both Davis and Laperriere concede that the responsibility lies chiefly with those in the industry to ensure their CSR practices meet the challenges posed. Government and policymakers must also ensure that sustainability in the wider sense remains at the forefront of policy agendas.
"A mix of entrepreneurial mindsets and integrated thinking coupled with technology, data and incentives will futureproof the sector for further generations," Davis notes. "We need to be collectively ambitious enough to ensure we are delivering value at the scale and pace of change required, but I'm confident we have the right level of passion and purpose within the sector to make this happen."