M&S Partners HarperCollins in Sustainability Publication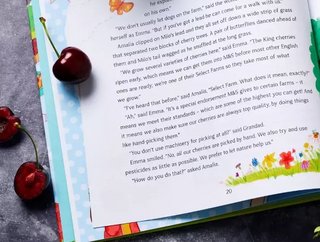 Marks and Spencer has partnered with HarperCollins to write and publish a children's book about the company's sustainable food sourcing actions
It's difficult to define Corporate Social Responsibility (CSR). Like sustainability, it involves various different aspects of a business. From physically funding projects to innovative product development, companies are getting creative in how they support environmental and social issues. Marks and Spencer (M&S) has come up with an interesting product idea to educate children about sustainable sourcing. 
Transparency and Sustainable Food Sources
The company has partnered with the popular children's book publisher, HarperCollins, to produce the 'Farm to Foodhall, The Magic Ingredient' book, which was written—by Linda Chapman—as an educational tool for children. The book comes as consumers are becoming more aware of sustainable sourcing; the publication will help inspire younger generations to be more conscious. 
While many organisations contribute to environmental, social and governance (ESG) issues financially, M&S is providing a different kind of support by selling the children's book, which is priced at £5. The book also serves as the company's CSR statement as it features M&S's Select Farm partners. 'M&S Food has always partnered with Select farmers and growers that we know and trust to produce delicious food in a way that maintains our reputation for trusted value and protects the planet for future generations', says Stuart Machin, Managing Director of M&S Food. 
Machin explains how the book will provide insights into the company's relationships with the British and the overall sustainability of its food. 'The stories within the book bring to life these relationships in a way that sparks conversations within families who we know are deeply concerned about the impact of environmental damage on future generations', says Machin. 'It will inspire young minds and help children to learn more about where their food comes from, the effort that goes into producing it, and the importance of establishing ethical and sustainable farming practices now and long into the future'. 
Juliet Matthews, Colour Publisher at HarperCollins, has discussed how the book brings together the best aspects of both organisations. 'We are delighted to have worked with Marks & Spencer on a truly collaborative project, creating a book that will not only entertain children but also deliver important learnings on sustainability and the journey of food from farm to foodhall', says Matthews. 
'We have combined the best ingredients of HarperCollins Children's Books  –  compelling, beautifully illustrated stories accompanied by engaging activities – with fabulous recipes from the M&S Chef team, to create a book for young readers that we hope will inspire long-lasting conversations about responsible farming and the joys of food prepared with care and love'. 
Ongoing Sustainability at Marks and Spencer
The publication highlights a small portion of the company's commitments to ESG. The company's Plan A Report highlights its achievements in the period of 2019 to 2020:
11.8 million surplus meal equivalents were donated. 

87% of packaging was classified as recyclable.

13% less greenhouse gas emissions produced. 

No waste contribution to landfill. 
For more sustainability insights, check out the latest issue of Sustainability Magazine.