SAP - Carbon Neutral Electric Mobility
Wed 14 Jun - Wed 14 Jun, 2023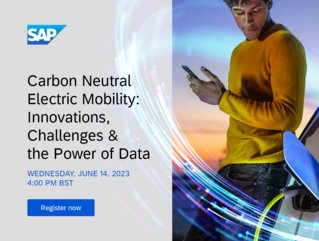 SAP - Carbon Neutral Electric Mobility
Innovations, Challenges & the Power of Data
Did you know that intelligent data exchange can play a crucial role in reducing CO2 emissions along the entire electric mobility value chain? How?

Join us in this lively discussion with our expert panel and discover:
How an open industry network ecosystem can facilitate a secure data exchange
The importance of traceability of EV components in the automotive supply chain
New methods in CO2 data calculation to help reduce scope 3 emissions
Strategies to make charging more profitable and sustainable
By attending this session, participants will gain a deeper understanding of the latest innovations and challenges in the electric mobility industry and how data plays a role in driving towards a carbon-neutral future.
Presenters
- Arlene Salvatore, Supply Chain Sustainability Manager at Ford Motor Company
Arlene is a dedicated professional with an impressive 23-year career in Supply Chain at Ford Motor Company. In her current role she collaborates closely with suppliers to effectively communicate Ford's expectations for environmental sustainability. With her wealth of experience in Supply Chain and her dedication to sustainability, Arlene plays a vital role in driving positive change within Ford Motor Company and the broader automotive industry.
- Florian Franken, Vice President Sales and Marketing at HEIDELBERG AMPERFIED GmbH
Florian joined Amperfied GmbH last year as Head of Product Management and Business Development where he is responsible for analyzing market opportunities and initiate new product and system solution developments in the e-mobility. Holding a Bachelor of Science and an MBA, he combines technical expertise with economic knowledge. He and his team is passionately working to drive the E-mobility transformation at Amperfied.
- Dr. Johanna Bronisch, Innovation Technologist Digital Hub Mobility by UnternehmerTUM
Johanna is part of the Digital Hub Mobility at the UnternehmerTUM, where she is in charge of a multi-stakeholder project, developing novel solutions to provide electric vehicles with electricity from renewable sources. Johanna is a trained Psychologist and holds a PhD in Neuroscience. Today she applies her scientific background to building new technology that makes transport more sustainable.
- Nadine Kanja, Solution Head of SAP Industry Network for Automotive and Catena-X at SAP
Together with her team of solution managers and industry experts, Nadine helps customers in the automotive industry to achieve the joint goal of creating more transparency, efficiency, and quality improvements along the value chain with the Catena-X program and the Industry Network for Automotive use cases. Nadine joined SAP beginning of 2022. Prior to her current role, she has a strong business development and digital marketing & sales background and started her career at a leading global supplier of technology and services in 2004.
- Ulrich Scholl, Global Vice President E-Mobility at SAP
Ulrich heads the SAP E-Mobility Product Management to deliver an end-to-end E-Mobility solution to enable the operations of various EV charging scenarios for corporate and commercial fleets by Charge Point and E-Mobility Service Operators. Ulrich has more than 25 years of experience in the IT market in consulting, solution and product management roles.
- Neil Perry, Moderator - Managing Editor at BizClik