Connecting Green Hydrogen Japan 2023
Tue 17 Oct - Wed 18 Oct, 2023
Bellesalle Shibuya Garden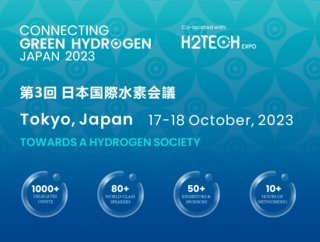 THE MOST ATTRACTIVE AND INFLUENTIAL HYDROGEN EVENT IN JAPAN
Connecting Green Hydrogen Japan 2023
THE MOST ATTRACTIVE AND INFLUENTIAL HYDROGEN EVENT IN JAPAN
Date: 17 - 18, October 2023
Location: Tokyo, Japan
Venue: Bellesalle Shibuya Garden Tokyo
Overview:
Connecting Green Hydrogen Japan 2023 is the premier platform to meet with prospective and current partners and strike the best business deals in one of the most established hydrogen markets in the world. This event will take place in person on 17 - 18 October 2023 in Tokyo and will gather Japanese and global hydrogen professionals from the whole hydrogen energy value chain.
Highlights:
Co-located with Japan Wind Energy 2023 & in conjunction with H2TECH Summit.
Market-focused topics: Japan's Hydrogen Policy and Strategy, Hydrogen Mobility and Fuel Cells, trends of the Hydrogen Society, Global Hydrogen Supply Chain, and Advanced Hydrogen Technology.
New Partnership Opportunities with Energy generators & gas producers, Large energy users, Infrastructure owners & developers, Government and Investors & buyers.
Visit event website for more information: https://www.japan.gh2events.com/
Follow us on LinkedIn: https://www.linkedin.com/showcase/connecting-green-hydrogen-japan/
Discount Code: CGHJ10 (Only for your subscribers)
Contact us: Eloise Hao| Marketing Specialist | [email protected]