Japan Wind Energy 2022 Conference & Exhibition (JWE2022)
Tue 11 Oct - Wed 12 Oct, 2022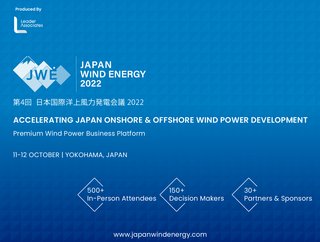 Japan Wind Energy 2022 Conference & Exhibition (JWE2022) will be held on 11th-12th Oct. 2022 in Yokohama, Japan, co-locating with 5th edition Solar Energy
Japan Wind Energy 2022 Conference & Exhibition (JWE2022) will be held on 11th-12th Oct. 2022 in Yokohama, Japan, co-locating with 5th edition Solar Energy Future Japan 2022 & 2nd edition Connecting Green Hydrogen Japan 2022.
In the context that Japan aims to expand the country's offshore wind power installed capacity to 10 GW in 2030 and 30-45 GW in 2040, the two-day conference will mainly focus on Offshore Wind.
Based on the success of Japan Wind Energy 2021 Conference & Exhibition, the organizer Leader Associates continues the mission to be a premium information change and business networking platform between public and private stakeholders in the country's wind value chain. It is estimated that JWE2022 will attract 500+ wind industrial stakeholders, representing Japan central and prefecture governments, global developers, investors & financiers, EPCs, and key equipment and solution providers. This year, JWE2022 creates new partnership opportunities with key stakeholders through various networking opportunities including 1-1 networking meetings & Energy Sustainable Night cocktail party.
If you want to know more about JWE2022, please visit https://www.japanwindenergy.com/
Contact: [email protected]