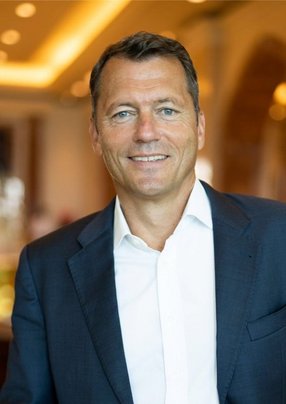 Jan Toschka
President of Shell Aviation
Jan Toschka, President of Shell Aviation, discusses the business's accomplishments and sustainability goals
What is the role of aviation in the broader energy transition?
Aviation currently accounts for around 3% of the world's annual carbon emissions but estimates indicate this figure could rise to 22% by 2050 as other sectors decarbonise more quickly.
It is therefore critical to tackle decarbonisation now, as delay and complacency could have repercussions for reaching net zero by 2050.
It is encouraging to see consistent desire from across the value chain to tackle decarbonisation, be that from airlines, as shown by International Air Transport Association (IATA) committing to reach net zero emissions by 2050, or from governments, after the agreement at last year's International Civil Aviation Organisation (ICAO) Assembly to adopt a net-zero emissions by 2050 target.
I firmly believe that all parties and measures across the aviation value chain will be required to meet aviation's target, but one measure in particular — sustainable aviation fuel (SAF).
What is Shell Aviation doing to make its operations and products more sustainable?
Shell has set a clear target to become a net-zero emissions energy business by 2050. As part of our approach to achieving this target, we are working with customers sector by sector, increasingly offering a choice of lower-carbon products. For Shell Aviation, this means working with our customers to help decarbonise the aviation sector.
Shell Aviation's carbon management strategy is key to helping our customers decarbonise and to making our own operations more sustainable. This involves helping the sector avoid emissions, reduce emissions — principally through SAF, and offset remaining emissions through high-quality carbon credits.
Are there any recent accomplishments here of which Shell Aviation can boast?
One of the highlights of 2022 was completing the upgrade of our Singapore facility to enable SAF blending. This represented a milestone for the aviation industry in Asia, significantly enhancing SAF supply chain capabilities and providing customers access to SAF across different segments in Singapore for the first time.
Our most significant accomplishment last year however was the launch of Avelia — one of the world's first blockchain powered digital book-and-claim solutions for business travel, created to scale corporate and airline demand for SAF. Avelia's immediate aim is to demonstrate that the tracking of SAF data at scale can be delivered in a credible manner, thereby proving that a mechanism to book-and-claim SAF can be an acceptable form of emissions reduction. With this acceptance, this will create a viable way for more ecosystem players to contribute to the cost of SAF, resulting in increased demand signals to structurally scale SAF production.
How important is sectoral and cross-sector collaboration in facilitating greater SAF adoption?
SAF is an incredible solution, available today, compatible with existing airport infrastructure and aircraft fleets, and capable of reducing lifecycle emissions by up to 80% compared with conventional jet fuel when used neat. But we're facing an impasse in scaling SAF and a consolidated effort across the value chain is required to scale SAF.
That's why Shell Aviation is acting as a partner for decarbonisation through memberships like the World Economic Forum, the UK's Jet Zero Council, the Global SAF Declaration or the Smart Freight Centre's Book-and-Claim Community. We're looking to catalyse action on SAF and that includes stimulating demand through supply agreements.
It is also this need for collaboration which inspired Avelia's creation. Not only was Avelia built collaboratively – by Shell Aviation, AMEX GBT, Accenture and Energy Web Foundation – but it's based on bringing together two parts of the value chain, airlines and corporate travellers, to scale SAF demand. Everyone has a role to play in scaling SAF and we're here to help make that happen.
What is the importance of end-to-end supply chains capabilities when it comes to supporting the growth of SAF?
This is a great question because production is only one piece of the puzzle. It's no good producing SAF if it cannot be distributed to where it's needed. It's crucial to consider the end-to-end supply chain for SAF, including bulk transportation of neat SAF, blending facilities, and the transportation of blended SAF to airports. We are focused on building the infrastructure to blend, handle and distribute SAF through our global airport network.
This is why our decision to upgrade our facilities in Singapore to allow for SAF blending was important. It enables neat SAF to be moved in bulk from production sources to the blending facility and then be delivered to airports in the region. Through building these capabilities, we're able to supply more customers with SAF in Asia Pacific, as we saw last year with Shell supplying SAF to Cathay Pacific, Japan Airlines, Cebu Pacific, Jet Aviation and Bombardier.
Where, ideally, will Shell Aviation's sustainability capabilities be three to five years from now?
I hope that book-and-claim for SAF will have gained NGO approvals as an acceptable form of science-based carbon emission reductions, with Avelia having played a key role in this.
We are already supplying airlines with SAF and this demand will have increased significantly, and we look forward to strengthening our network by increasing the number of airports where we supply SAF to our customers globally.
With every passing year the sector is making good progress, but the challenge is such that we must accelerate the pace of change. And we want to help everyone in the industry do the same.