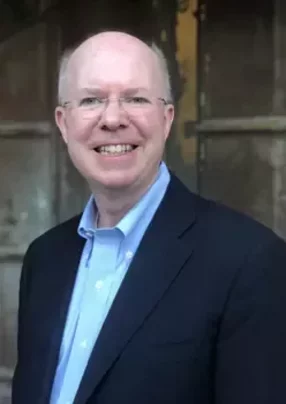 We speak to the CEO of water-cooling technology start-up Nautilus about his White House days, environmental credentials and reinventing data centres
James Connaughton has an interesting career history and journey to his position at Nautilus. A lawyer by profession, he practised for 10 years out of Washington DC in environmental and sustainability policy, travelling the world, negotiating and implementing ISO environmental management systems standards, which are now being implemented by several million organisations around the world. He was also chairman of the White House Council on Environmental Quality as a policy adviser to then president, George W Bush's administration.
He says of the eight-year-long position: "If you have a sense of what a national security advisor may do for a living, I did that in terms of energy, the environment and natural resources. In terms of subject matter for this, it included forestation, climate change, air and water pollution, the international whale trade - you name it, I have been involved with it."
Following his work at the White House, Connaughton became a management executive at Constellation Energy, one of the US' biggest and most innovative electricity and gas companies, which then merged with Exelon, the nuclear power generator. While there, the company made a number of investments in sustainable projects, one of which was
in C3.ai which brings AI and machine learning into the fields of energy, industry and military systems. Connaughton joined the management team to help enable this technology to drive productivity, sustainability and performance in those fields. He says it was at this point he got a lot of exposure to the data centre world.
"I was then approached by the founders of Nautilus, initially as an advisor and I thought it would be a perfect place to end up - where digital meets industrial and then meets sustainability. I was also very excited to make the leap from software to infrastructure," he says.
"It was very clear Nautilus' new software systems hold the potential to drive an exponential leap forwards in global sustainability. It also became clear that existing data centre operations aren't sustainable. And because Nautilus focuses on supporting the highest level of performance with the lowest environmental impact and the best social and economic benefit, this is the definition of sustainability in a way," explained Connaughton.
Team and leadership style
Connaughton says his aim when it comes to the Nautilus team is to "empower smart people to succeed beyond their capabilities" and with a start-up mentality as,he said, the company is essentially still a start-up. He stresses that everyone onboard is responsible for enhancing and enriching the success of other partners, because it is a small team, but that means it's very collaborative.
"The team all come from data centre and networking backgrounds and they work with industrial vendors who supply the rest of the world and some of them are supplying data centres for the first time, but it all requires agility, creativity and adaptability."
In terms of his role, what does Connaughton envisage for the future?
He says: "I think my role will become increasingly global and also in terms of finding great partners. I am feeling confident because collectively the leadership team has 200 years' experience so they know what they're doing. My role is really to keep them busy, supply insights, licenses, site developments, knowledge and project construction and operations for hopefully the next many years and I look forward to that."
Read the full story HERE.