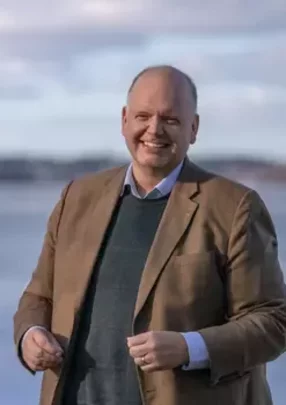 Pär Larshans
Environmental Director of Sustainability
Ragn-Sells's Environmental Director of Sustainability, Pär Larshans, is on a mission
While many people are just beginning to grasp the existential crisis which is consuming Planet Earth, Pär Larshans has been wrestling with it for 25 years. 
Pär began his sustainability journey at a family-owned fast-food company over 30 years ago. From the 1990s onwards, he championed ethical food production, transformed approaches to climate change, encouraged the employment of people with disabilities (not to tick boxes, but to improve performance) and pioneered the use of carbon-labelled food products. That company was even one of the first to offer a plant-based burger at a time when humans could rarely see past red meat.
During the early years, he honed his communication, social sustainability and intrapreneurship skills, gaining international recognition for his work along the way. In 2013 and 2014, 2020 Trust Across America listed him as one of its 'Premier Thought Leaders' and, in 2013, he was given the Swedish Award for 'Intrapreneur of Year'. He has also received a 'Green Award' in London for sustainability communication.
Since 2007 he has been highly sought after as an international speaker on leadership, inspiration for change, sustainability and the circular economy. Since then, he has given over 1000 speeches from California to Japan, inspiring companies to consider their sustainability obligation and becoming the focal point for positive change among delegates.
He joined Ragn-Sells in 2015 and immediately set about converting the linear model to a circular system. Validation came in 2018 when the company became a heralded 'Innovation of Leadership' ambassador for SDGs and were invited to the UN in New York to deliver a presentation on how it has reached its targets.
In his six years at Ragn-Sells, Pär has witnessed a revolution in the wider corporate attitude to environmental responsibilities. No longer the niche or fashionable fad it once was, waste management is big business and, as he predicted, it's here to stay.
The sudden change in approach among companies was a pivotal shift, and Pär believes it will lead to a positive cultural revolution in the perception of sustainability. "The world is getting more transparent," he notes. "Businesses really need to understand that if you're not doing the right thing – if you don't take responsibility – the consumer will hate you."
It's typical honesty from this sustainability luminary, but he is also adamant that if, as a company, you make mistakes, confess to them and make sure that you reverse them, your reputation will be greatly enhanced. 
He insists: "I have seen that sustainable companies which contribute to the best of society are always rewarded."
As Pär continues on his mission, he is clear about his passion for diversity and rejection of exclusivity. "I dislike prejudice," he says. "It stops so many good things from developing. Employing people with disabilities, varying backgrounds, and different ethnicities can only improve a company's performance."
Read the full story HERE