edie awards sustainability at Microsoft and other corporates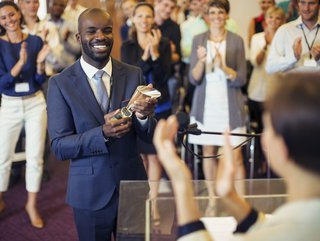 Credit: Getty Images | The edie Net-Zero Awards recognises the amazing companies delivering sustainable business actions and progressive results
Award winners are recognised by edie for their net-zero and climate strategy, Sean Jones comments on Microsoft's commitments at Sustainability LIVE London
One of the industry-leading media brands showcases some of the most sustainable companies in the industry. edie hosts a number of award ceremonies to recognise great achievement in net-zero strategy, energy decarbonisation and environmental advocacy, which is all necessary for inspiring next-generation changes across industries.
The Net-Zero Awards features breakthrough innovations and solutions to some of the world's most pressingly sustainable challenges, resulting in a number of worthy award winners.
Previously, the edie awards programme held a number of great ceremonies and awarded the likes of Microsoft, Capgemini, DuPoint Water Solutions, JLL, and Mitie for their net-zero carbon strategies.
The edie Awards is a purpose-driven campaign to analyse and acknowledge businesses increasing their carbon reduction efforts, which naturally touches topics such as energy, resource, electric mobility, and development of the built environment—all empowered by business leadership.
The Net-Zero Awards is a sister to the main edie scheme and will present some of the trailblazers of the industry and their net-zero carbon emission strategies that will also provide economic returns.
Recognising Microsoft's sustainability journey
One of the previous year's winners of the edie Awards is Microsoft, which took the mantle for leadership in sustainability reporting and communications. Over the past year, the company has been very active in delivering on decarbonisation commitments and educating businesses on how to reduce their impacts through environmental, social and governance (ESG).
Microsoft also collaborates with further sustainability leaders, including Siemens in a project to drive cross-industry artificial intelligence (AI) adoption. AI has become a huge component of its strategy, not just for its application in energy infrastructure, but also in automation of manufacturing, and has even been displayed in the agricultural sector.
Sean Jones, Chief Sustainability Officer of Microsoft Germany, spoke at Sustainability LIVE London and evangelised his experiences in chemical engineering and sustainability, and how the company can provide solutions to some of the challenges.
One of his comments really sums up the reason why sustainability awards programmes like the edie Awards, but also the upcoming Global Sustainability and ESG Awards by BizClik, are so important. He explains that it's about "developing that culture of a real interest in sustainability. The companies that are leaders are the ones that [aren't focused on] strategy only, it's about [having] a driving force within your organisation".
Following on from this, Jones explained the ripple effects that come from the previous leaders, including its founders Bill Gates and Paul Allen, who seemingly embedded the responsible culture that we see within the organisation today. While this can seem like the company was set on the right path from the word 'go', this is also a testament to the global team that has carried further initiatives forward.
*************************************************
For more insights into Sustainability - check out the latest edition of Sustainability Magazine and be sure to follow us on LinkedIn & Twitter
Other magazines that may be of interest - EV Magazine | Energy Digital
*********************************************
Net Zero LIVE will be hosted live from the QEII Centre, London on the 6th and 7th of March, and streamed globally via our virtual event platform Brella. Net Zero LIVE London will feature four LIVE themes, incorporating Sustainability LIVE, EV LIVE, Scope 3 LIVE, and Energy LIVE to deliver a holistic conference and exhibition experience with opportunities to connect with like-minded peers and actively contribute to crafting a sustainable future. Following Net Zero LIVE, viewers can also sign up for Sustainability LIVE Dubai and Singapore.
Sign up to the The Global Sustainability & ESG Awards 2024, coming to London on the 11th September 2024.
*********************************************
BizClik is a global provider of B2B digital media platforms that cover 'Executive Communities' for CEO's, CFO's, CMO's, Sustainability Leaders, Procurement & Supply Chain Leaders, Technology & AI Leaders, Cyber Leaders, FinTech & InsurTech Leaders as well as covering industries such as Manufacturing, Mining, Energy, EV, Construction, Healthcare + Food & Drink.
BizClik, based in London, Dubai & New York offers services such as Content Creation, Advertising & Sponsorship Solutions, Webinars & Events.