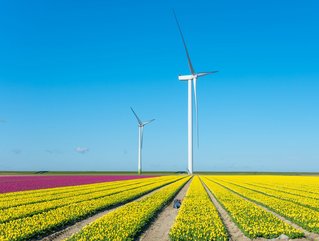 Ex-PM replaces Walley as Aldersgate Group accelerates emissions commitments
During Theresa May's torrid three-year spell as Prime Minister her most memorable moments involved flirtatiously holding hands with Donald Trump, wearing bold chain-link necklaces and revealing that she once recklessly 'ran through a wheat field'. It was, perhaps, this last act of rural anarchy that provided a clue to her latest career move.  
Aldersgate – the campaign group for a sustainable economy – has appointed May as its new Chair, taking over from former Labour MP Joan Walley, who had been in the position for six years. The former PM, who was in Downing Street between 2016-19, will support the Group's ongoing work to deliver the UK's net zero emissions and nature restoration targets, while also ensuring a globally thriving green economy in the process.
The organisation looks forward to a critical year for the climate, environment and economic recovery agenda, and is involved in three major projects on green finance, waste and industrial decarbonisation. New business members are also arriving from the facilities, retail, water, legal and energy sectors. The expertise and insight among these contributors will bolster the group's knowledge base across a range of important sectors, driving policy change, supporting rapid cuts in emissions and – pivotally – restoring the natural environment.  
The appointment is a notable landmark for the Group, whose other members include leading businesses, NGOs, professional institutes and academic institutions. It is anticipated that May will bring leadership to the role and a passion for driving action towards an environmentally sustainable and net zero emissions economy.
Aside from the tumult of her tenure as Prime Minister, Theresa May actually enacted the UK's landmark commitment to reach net zero emissions by 2050. Although this must be revised to 2040, it did ensure that the UK was the first major economy to enshrine this target in law. 
She also oversaw the publication of the 'Clean Growth Strategy' and the decision to end unabated coal-fired electricity generation in the UK by 2025, both of which are helping accelerate emission cuts in the power sector and encourage the growth of renewable generation such as wind and solar.
Meanwhile, her Government published the 25 Year Environment Plan, which provided an ambitious framework to protect and restore the natural world within a generation; a vision which is now in the process of being enshrined in the Environment Bill currently going through Parliament.
May enthused: "I am joining the Aldersgate Group to champion the business case for decarbonising the UK economy, improving resource efficiency and investing in the restoration of nature, because we are at a crucial crossroad for our climate and the environment. As Prime Minister, I was proud to lead the UK to be the first major economy to enshrine the net zero emissions target into law and publish a strategy to overturn the decline in nature within a generation. It is vital we now accelerate our progress towards these ambitious targets and develop clear delivery plans."