Nestlé switches to renewable energy for sustainable delivery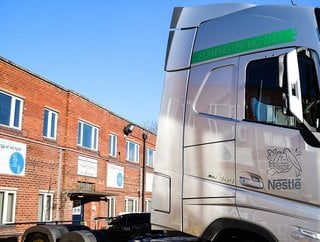 As part of its wider sustainability strategy, Nestlé has switched a large portion of its fleet to alternative fuel in a huge leap towards net-zero by 2050
Consumer goods organisations are looking for solutions to various environmental, social and governance concerns. From the reduction of emissions to improving the health and well-being of customers, organisations like Nestlé are making the necessary changes and furthering their efforts through research and development, and renewable energy implementation.

To promote sustainability across its operations in the UK and Ireland, the well-known confectionery and beverage provider has confirmed an important programme is underway to reduce emissions from its supply chain. The firm announced it will experience a 95% reduction in greenhouse gas emissions as it switches three-quarters of its fleet from diesel power to bio-liquefied natural gas (LNG), a switch that has taken many years to implement.

The Head of Delivery at Nestlé UK & Ireland, Sally Wright says: "Running a network to ensure goods are transported around the country in a timely and efficient manner while reducing our carbon footprint, is a complicated task."
She continues: "Considerations such as the refuelling facilities of Bio-LNG, the weight of the goods the trucks carry and the range restrictions of alternate fuels, have meant that every step of the journey needs to be meticulously planned."
"We've worked with a number of partners in order to make the change and collaboration has been key. We wouldn't have been able to get these trucks on the road without industry collaboration."
Nestlé's wider strategy for sustainability
The switch of its fleets is part of the company's broader carbon-reduction strategy, as it aims to reduce its emissions to net-zero by 2050. Nestlé is working across the board to change the way it operates and switch 100% electricity. The firm will also increase the capacity of its trucks to reduce the number of trips required for the same amount of goods delivered.
Within the next two years, the remaining number of vehicles will be switched from diesel to alternative fuels.
"I am extremely pleased we have been able to make this transition and reveal the new, more sustainable trucks now and look forward even more of them on the road in the near future. I am really proud of the Logistics team's efforts over the last few years to make this happen and would like to thank everyone involved," says Wright.
Furthering research and development in sustainable initiatives
Beyond its renewable energy exploits, the company is putting more of its efforts into research and development across its product ranges. From the development of recyclable, sustainable packaging and alternative product recipes to sourcing initiatives, plant science is playing an important role in its projects.
The firm has pinpointed specific coffee beans for its products, which are both drought resistant and are produced using less carbon. The company prides itself in being able to produce the coffee beans through non-genetically modified organism (GMO) breeding and experiences a reduction in carbon emissions by 30% while receiving higher crop yields.