Sustainability LIVE Net Zero: Alice Steenland from Signify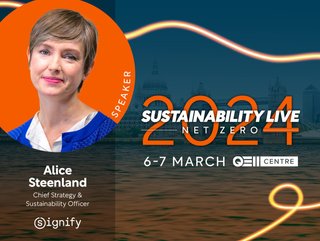 Sustainability LIVE Net Zero: Alice Steenland, Chief Strategy & Sustainability Officer at Signify
Chief Strategy & Sustainability Officer of Signify Alice Steenfield joins the lineup of speakers for the inaugural Sustainability LIVE Net Zero conference
We don't often put lighting under the sustainability microscope, but there is something to be said for reducing the impact of LEDs and other commercial lighting installations, or reducing energy consumption to minimise the draw on national grids.
Come to think of it, lights can quite literally show us the scale of infrastructure that is to be impacted by efficiency. If you imagine looking over a major city and visualising how distinctive they are in the night—the peak of lighting usage—you can also understand how far infrastructure reaches.
One of the companies to feature at Sustainability LIVE Net Zero is Signify, a global professional in lighting with operations spanning consumer projects to large-scale installations. Signify is more than just a lighting supplier but an innovator in solutions connected via the Internet of Things (IoT), providing customers with smarter, more intuitive lighting operations.
Joining the show will be Alice Steenland, Chief Strategy & Sustainability Officer at Signify, who will sit alongside our event host for a fireside discussion relating to Scope 3 on the first day of the hybrid conference.
What to expect from the Signify Scope 3 discussion
Steenland champions corporate sustainability in the lighting business and is responsible for its responsible growth strategy. She took on the current position in January 2022 following various sustainability and leadership positions with the likes of Dassault Systèmes, AXA, and Vigeo Eiris. Prior to this, Steenland also worked in strategic consulting roles at Save the Children and Arthur Andersen.
As a member of the leadership team at Signify, she focuses her attention on the sustainable digital transformation of the lighting business, primarily leading strategy, market intelligence and external corporate communications.
As a result, we can expect Steenland will take into account the myriad of facets within Scope 3 and how this impacts Signify and its supply chain to ensure that the company complies with the needs of various stakeholders from consumers to enterprise customers. With an extensive history in the digital environment, there could also be discussions of technology's role and the potential take-home insights from the company's own digital journey.
Sign up to Sustainability LIVE Net Zero
Join in the conversation at Sustainability LIVE Net Zero where executives will continue to their train of insights in the Sustainability LIVE event series. Following the success of the 2023 conference, the Net Zero instalment will draw attention to the four key themes impacting net zero, including renewable energy, corporate sustainability, EV adoption, and Scope 3 measurement and analysis.
To find out more and sign up for the event, click HERE.
For opportunities to sponsor this corporate event, head over to the page on the website where you can register your interest.
*************************************************
For more insights into Sustainability - check out the latest edition of Sustainability Magazine and be sure to follow us on LinkedIn & Twitter
Other magazines that may be of interest - EV Magazine | Energy Digital
*********************************************
Sustainability LIVE Net Zero will be hosted live from the QEII Centre, London on the 6th and 7th of March, and streamed globally via our virtual event platform Brella. Sustainability LIVE Net Zero will delve deeper into the strategies, innovations, and collaborative efforts propelling us toward a net-zero future. The conference and exhibition gives the opportunity to connect with like-minded peers and actively contribute to crafting a sustainable future.
Following Sustainability LIVE Net Zero, viewers can also sign up for Sustainability LIVE Dubai, Singapore and New York.
Sign up to the The Global Sustainability & ESG Awards 2024, coming to London on the 10th September 2024.
*********************************************
BizClik is a global provider of B2B digital media platforms that cover 'Executive Communities' for CEO's, CFO's, CMO's, Sustainability Leaders, Procurement & Supply Chain Leaders, Technology & AI Leaders, Cyber Leaders, FinTech & InsurTech Leaders as well as covering industries such as Manufacturing, Mining, Energy, EV, Construction, Healthcare + Food & Drink.
BizClik, based in London, Dubai & New York offers services such as Content Creation, Advertising & Sponsorship Solutions, Webinars & Events.