Amazon Tackles Key Sustainability Areas in MENA Region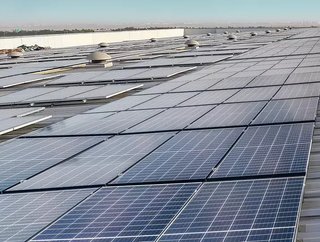 Amazon has implemented a solar PV project in the UAE as part of its commitment to renewable energy, mobility, and waste reduction in the MENA Region
Amazon announced it had taken the first step on its sustainability roadmap for the Middle East and North Africa. The tech giant is one of many undergoing acquisitions of renewable energy projects and has also launched its first solar rooftop in the United Arab Emirates (UAE). Amazon MENA operations are taking place in line with The Climate Pledge for net-zero emissions by 2040. 
Further actions from the company - as a result of The Climate Pledge - include implementing carbon reduction strategies for every stage of operations. This covers the company's operations from picking items at the fulfilment centre to the packaging materials and distribution and last-mile transportation. 
Praised for Sustainable Initiatives
"Carbon neutrality is at the core of the Paris Agreement. Here in the UAE, we are working with our partners in the private sector to help them recognise that mainstreaming climate-friendly business models and carbon footprint reduction into their future growth plans is not only an environmental imperative but also makes sound business sense. We add our voice to Amazon's call for businesses to step up to the challenge and take The Climate Pledge that aims to contribute to achieving the goals of the Paris Agreement. We congratulate the company on the inauguration of its first solar rooftop in the UAE and its steadfast commitment to sustainability," says His Excellency Dr Abdullah Belhaif Al Nuaimi, UAE Minister of Climate Change and Environment.
HE Saeed Mohammed Al Tayer, MD & CEO of Dubai Electricity and Water Authority (DEWA), praised Amazon MENA for its efforts to implement solar PV in the UAE. "DEWA's Shams Dubai initiative supports the Smart Dubai initiative launched by HH Sheikh Mohammed bin Rashid Al Maktoum, Vice President and Prime Minister of the UAE and Ruler of Dubai, to make Dubai the smartest and happiest city in the world. It also supports the Dubai Clean Energy Strategy 2050 to provide 75% of Dubai's total power capacity from clean energy sources by 2050. We value Amazon's efforts to promote Dubai's position as a leading city in using clean and renewable energy and the company's commitment to reducing its carbon footprint. This supports DEWA's joint efforts with the private sector to protect the environment and natural resources to ensure a brighter future for generations to come."
Operate and Evaluate Sustainable Operations 
The solar project in the UAE fits into the three areas that Amazon MENA is targeting in the region. 
"As we continue to grow in the region, we believe that it is our duty to act responsibly from day one," says Prashant Saran, Director of Operations for Amazon MENA. "Our MENA sustainability roadmap embodies our commitment towards building an environmentally sustainable business, not just to reduce the impact of climate change, but to also support the communities where we live and work. We encourage like-minded technology partners and local businesses to design and deliver innovative solutions to combat climate change. The inauguration of DXB3's solar rooftop is an important milestone on our path to The Climate Pledge vision to be net-zero carbon by 2040 and addresses one of the three core areas for carbon reduction across our operations: Energy, Transportation and Packaging."
Building Efficient Infrastructure 
Amazon is committed to sourcing 100% renewable energy across all of its fulfilment centres in the Middle East and North Africa. The company will work with regulators, utility partners and other organisations in the industry to ensure that renewable energy systems support the development of public frameworks and expand the role and accessibility of renewables across the region. Two more facilities - in Saudia Arabia and Egypt - are on track to begin operations this year. 
Developing Sustainable Transformation 
Amazon has already begun to implement electric vehicles into its supply chain. But the company continues to work on improving sustainable transportation in the MENA region through the use of new technologies, equipment, EVs and sustainable alternative fuels. Amazon continues to work with mobility innovators to develop net-zero transportation solutions, which will support the region's commitment to low transport carbon emissions. 
Reduction of Plastic Waste 
Amazon will expand its Ship in Own Container programme to 12% of UAE shipments and 10% of those in Saudi Arabia. This is part of the company's efforts to reduce the carbon footprint of each Amazon parcel. Despite its adaptation to fully recyclable packaging materials, the company will work with partners to further reduce packaging waste. 
"We are proud to be operating in countries that have a heightened consciousness of the impact of climate change on future generations. As we embark on the path to a low carbon economy a decade ahead of the Paris Agreement, I call on businesses in MENA to join us as signatories to The Climate Pledge. By agreeing to decarbonise on a faster time horizon, we will play a critical role in stimulating innovation, policies and investment that will help tackle the climate crisis in our communities, our countries and our region," says Ronaldo Mouchawar, Vice President of Amazon MENA.