Supply Chain Sustainability
5 minutes with Alex Shannon, of Sous Vide Tools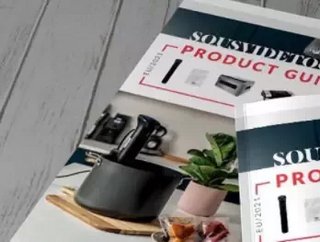 Alex Shannon, Managing Director of Sous Vide Tools, discusses sustainable food packaging, plastic-free items and tackling food waste
Sous Vide Tools is Europe's leading kitchen equipment supplier, which works with chefs including Tommy Banks, Mark Birchall and Tom Aikens. 
The company has created a sustainable sous vide bag, which will compost after use, to reduce kitchen and plastic waste. The company is the first to offer a compostable home vacuum sealer pouch: the 'Sustainapouch'. These bags are mainly made up from rice, potatoes and corn, meaning they typically reduce to granular levels within 26 weeks. Rather than using endless clingfilm, these little pouches, are sealed up with a home vacuum sealer and can store food for several days longer without any deterioration in quality. They also protect food from freezer burn and dehydration.
Managing Director Alex Shannon discusses sustainable innovation with Sustainability.
Hi Alex! Can you tell us about your career path and what brought you to Sous Vide Tools?
"After cutting my teeth as a key account manager selling products into catering equipment distributers, I developed a relationship with an Italian Manufacturer, after successfully stocking their panini grills with a large chain. They had a commercial sous vide device that they wanted to take to market in the UK and were looking for a partner. At the time I was working for a refrigeration company, so after asking a few of my old contacts in the catering industry if it would be of interest and being told it didn't have any legs, I decided I could either let it walk away or give the opportunity a go myself. 
"Sous Vide Tools was born. We still sell that same product that started the business originally and are proud to have been first to market with many of our home appliances."
What waste challenges is the kitchen equipment industry facing? 
"I would say similar challenges to the ones we all face in business, maintaining a responsibility to be more mindful of waste, not only as a business, but with the products that we offer to balance our responsibilities alongside being able to operate in a way that's commercially viable. With our products, we have had to think how everything will work in the real world, from the packaging we choose to being able to offer repairs on products rather than having to replace them if they develop an issue. 
"Our main challenge as a company has been that our products require produce to be placed in plastic to preserve or cook them, using plastic pouches when vacuum packing or cooking sous vide which leads to a reduction in food waste but leaves behind single use plastic. We have invested a lot of time and money into looking how we can change that."
Tell us about the Sustainapouch
"Sustainapouch is our plastic free alternative to a vacuum pouch, it's made from a fully home compostable material. It brings all the benefits of vacuum packing into the kitchen but in a way that eliminates single use plastic."
How does the product affect food?
"Vacuum packing food brings about many benefits such as extended shelf life, portion control, no freezer burn to name a few, and our Sustainpouch product is capable of doing all of this whilst being compostable."
What do the chefs you've worked with say about the Sustainapouch?
"Chefs have been really positive about the product! In professional kitchens they use a significant amount of vacuum packing which has previously led to an excess of plastic waste, so to have a product that eliminates that has been met with real interest from the chef community."
Do you have any similar products in the pipeline?
"Now we have Sustainapouch for both our professional and home customers, we would hope that we can also add some guidance on home composting and even perhaps create our own compost bins to accommodate the pouches."
What do the next 12 months hold for you?
"Hopefully we can encourage many of our customers to swap from traditional vacuum pouches to the Sustainapouch brand and we will be doing a lot of work around that. We are always busy looking for the next product and hopefully working closely with chefs will give us insight into what will be the next big thing in home cooking, so we can further develop the product range in Sous Vide Tools portfolio."