Supply Chain Sustainability
Eliminating Christmas waste with Bloomberg's Caroline Hyde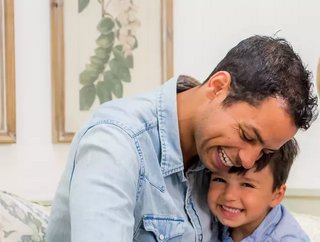 "I'm hopeful the warmth among colleagues will be sustained", says Caroline Hyde, of Bloomberg news, on the post-pandemic world, as she wages a war on waste
Bloomberg business and technology journalist Caroline Hyde loves Christmas - but not waste. Her new charity, Inspire, hopes to make a dent in the volume of waste produced each Christmas:
114,000

tonnes of plastic packaging is thrown away

9%

of people buy someone a gift which they know the recipient won't want (sometimes as a practical yuletide joke)
"It starts the minute the festive period begins, the plastic, the wrapping paper you use just once, the frantic buying for buying's sake - we all get swept in", says Caroline. "The minute you have kids, you realise how much waste you create and your own responsibility to try and limit that for their sake. Anything we built for our charity had to have a sustainable focus."
Caroline tells Sustainability about this new venture, sustainability in the tech supply chain and if the pandemic has made the world a kinder place.
Hi Caroline, tell us about sustainability trends in the technology sector
"I think there's been a real rise in responsibility in the sector. The whole supply chain is now being addressed. Everyone is talking the talk, and it's heartening to see them walking the walk too - entrepreneurs seeking ways to reuse EV batteries, use digitisation to build yield for farmers, turn to wind and solar for energy sources. I'm particularly interested in how we can make the production of magnets more sustainable, given we are using magnets in our first product and are in so many family toys."
You have worked internationally, what has this taught you about waste and sustainability?
"It's amazing how differently each city, let alone country, focuses on sustainability. In Berlin I was so impressed at a local level by how focused they were on recycling, incentivising with small payments back for returned bottles, well ahead of the game on charging for plastic bags. In the UK, I loved seeing on my recent stay the way food composting is being supported more recently at a city level. I love the innovation being shown the world over, and in New York our office makes all its disposable cups and straws out of corn syrup...so no soggy straws! 
"The world over, consumers are voting with their pockets when it comes to sustainability and pushing all industries to adapt - restaurants, clothing retailers, the rise of rental clothing, the ability to send your excess clothes to 'Threadup', shoes made by 'On' repurchased for recycling, iPhone exchanged and of course there is always charity shops. I love how public and private markets are working together to tackle these huge issues."
Tell us about your charity Inspire.
"Inspire was founded on the idea of helping families spread kindness and fun in a sustainable way while raising money for those less fortunate. Using reusable materials, building toys and ideas that can be passed on and loved time and again."
What is the Kindness Advent Tree?
"This is our first product [pictured], made from wood to be decorated by the family and use each piece to inspire an act of kindness and build excitement for the festive season."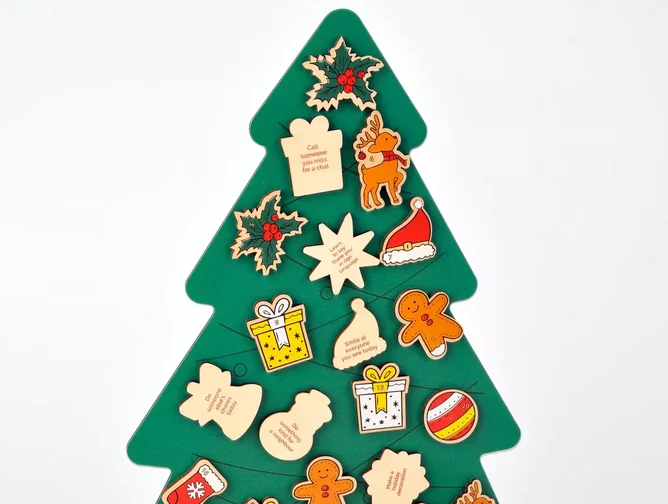 What feedback have you received - from children and adults?
"The real joy for us has been the enthusiasm with which everyone has embraced the idea. Friends and family wanting to lend their time and expertise and giving feedback on the prototypes."
There are a lot of other festivals and holidays which contribute waste - will you be challenging another one next?
"I think we would love to inspire kindness and promote sustainable gift giving throughout the year. Birthday parties are a big future focus - party bags for example could be a great way to spread fun, kindness and charity in a sustainable manner."
Do you think the pandemic has made the world a kinder place, especially at work? 
"Inspire was born out seeing the world rally round to combat the sadness of the virus. Moments of joy brought across Europe the US and Asia as communities banged pots and pans, drew pictures to put in their windows, helped vulnerable neighbours... showed kindness. 
"I'm hopeful this kindness will last, the warmth among neighbours and colleagues will be sustained.  The working world is still trying to find its balance, to understand if a new more flexible office environment is something that benefits people and prosperity. I'm convinced companies and leaders have changed, that more focus will be put on how employees want to work, how families and carers can be supported and that there's necessity to bring your full self, your kind self to work."