Supply Chain Sustainability
How will labelling give product sustainability insights?
As more businesses look to build on the sustainability of their supply chains, we look at how labelling can provide insights to customers of all industries
A link has been formed between sustainability and product sales. Information from Google Trends — presented by The Economist Intelligence Unit in a global report, commissioned by the World Wildlife Fund (WWF)— shows exponential growth in the concern for the sustainability of products since 2016.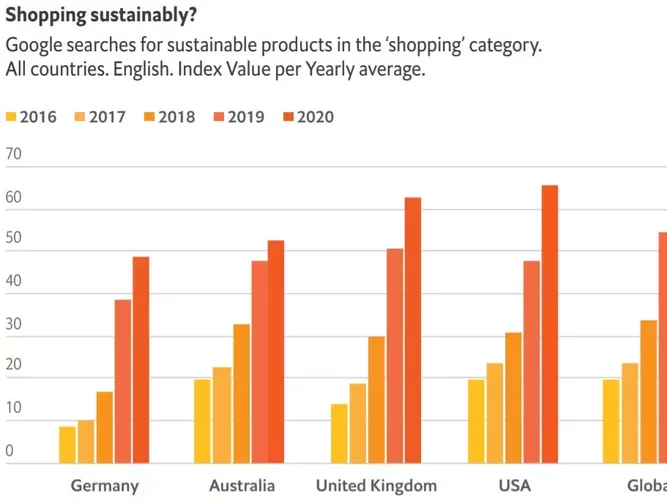 These concerns are not just around the recyclability of clothes and others goods, but the origins of their materials and the emissions expelled to produce them. For this reason, companies are embracing transparency within their supply chains and one way of achieving this is through labelling. 
How does labelling encourage sustainable sourcing?
Over the years, more labels have been introduced on UK packaging to signify that products meet certain standards and have been sourced from suppliers that are paid fair prices and safe conditions. The Red Tractor certified standard is a prime example of this, with over 20 years of service as a non-profit organisation it ensures that farmed products are produced with care and that all information can be traced back to suppliers. 
A globally-renowned initiative that makes its mark on many imported goods is the FairTrade initiative. The FairTrade Foundation was established to ensure that all products bearing its label are sourced from farmers and other suppliers at reasonable prices. 
While this is a set standard for the industry, other labels, such as the Ecolabel that was established by the European Commission, recognises products based on their traceability and environmental and social impacts. Established in 1992, the scheme
The modern method of product transparency 
Digital transformation will encourage more transparency of products with businesses, particularly in the fashion industry, adopting digital ecolabels to provide insights into their product origins. This solution will provide insights to consumers digitally through e-commerce, by displaying origin information and following a circular data protocol, meaning that products will be produced from reusable or recyclable materials. 
As this labelling method becomes more sophisticated, consumers can expect to see more intuitive solutions for shopping in stores, such as scannable tags that provide sustainability information. 
For more sustainability insights, check out the latest issue of Sustainability Magazine.