BizClik Media Group launches its first Sustainability LIVE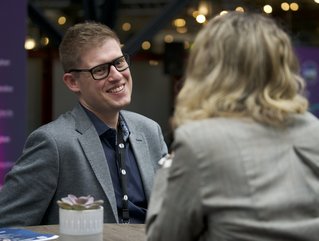 At Tobacco Dock, London, BizClik Media Group commences its first Sustainability LIVE hybrid conference, welcoming business leaders from across the globe
The long-awaited Sustainability LIVE takes place today at Tobacco Dock, London. The team at BizClik Media Group has been preparing to open its doors to leaders from across the globe, as speakers or attendees at the event.
Sustainability LIVE will host various stages and provide insights from some of the leading organisations as they divulge their sustainability strategies and practices from the past few years. Following the most significant event of the 2020s, COP26, we will find out how businesses will reach net-zero carbon emissions, through initiatives such as renewable energy sourcing, supply chain transparency, and we'll also take a look at the all-important environmental, social, and governance (ESG) strategies of companies.

Glen White, Chief Executive Officer of BizClik Media Group, says, "I expect to see a showcase of the sustainability strategies of the world's biggest companies, directly from their sustainability practitioners. In particular, net-zero, decarbonisation strategies, sustainable supply chains, and circular economies will be high on the agenda, as well as tackling areas like social equality and racial equity."

"With almost 5,000 people registered to attend the first-ever sustainability event hosted by BizClik is a testament to how serious companies and executives are taking the future of sustainability in 2022."

What to expect from Sustainability LIVE
Over the past few weeks, Sustainability Magazine has provided speaker and sponsor insights as new positions have been taken up fast. The hybrid conference — allowing attendees to watch in person or virtually — will feature speakers from the likes of SAP, OneTrust, Schneider Electric, Aggreko, Rolls-Royce, Interos, and many more.
Here are some of the comments from our speakers:
Wineke Haagsma, Director Corporate Sustainability, PwC The Netherlands and EMEA, says: "I am really excited to speak at Sustainability LIVE where I will share insights on Sustainability Leadership. We are not B2C or B2B, we are all B2S. Business to Society. Let's all act accordingly!"
Ben Clifford, Global Health, Safety and Sustainability at Fidelity International, says: "Really excited to be joining Sustainability LIVE and sharing how we at Fidelity 'Practise what we Preach' by holding ourselves accountable to the same standards we expect of our investee companies."
Sheri Hinish, Consulting Global Sustainability Services Lead at IBM, says: "Sustainability is a team effort. I'm thrilled to join others who are powered by purpose and want to make an impact. Join me at Sustainability LIVE to learn how ethical innovation and sustainable supply chains can enable transparency, trust, and circularity."

• Join global business leaders and sustainability experts taking meaningful action at Sustainability LIVE, held at Tobacco Dock, London, 23-24 February 2022. Register to attend today! Click here to learn more.