Businesses are learning how real The Great Resignation is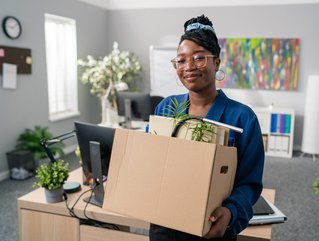 It is one of the biggest issues facing recruiters in a brutally competitive labour market, but is the Great Resignation just a trend or an historic change?
The Great Resignation is a term coined by Anthony Klotz, a professor of management at Mays Business School at Texas A&M University, to describe the ongoing economic trend of employees voluntarily resigning from their jobs en masse. The professor predicted the movement in May 2021. It is currently happening primarily in the US.
It is believed that wage stagnation combined with the rising cost of living, economic freedom provided by COVID-19 stimulus payments, long-lasting job dissatisfaction, and safety concerns of the COVID-19 pandemic kickstarted the movement. In December last year, 4.34 million employees in the US resigned from their jobs. Earlier in around the same period in 2020, 4.4 million workers also quit. The numbers are the highest in over 20 years.
How real is the Great Resignation?
Before February 2021, around a year after the start of the COVID-19 pandemic, the US had never recorded a resignation rate of more than 2.4% of the total workforce per month. The Great Resignation, also referred to as the Big Quit, mostly affected the service industries and childcare. Since, it has spread to higher paying jobs.
A 2021 report from Microsoft titled The Next Great Disruption Is Hybrid Work – Are We Ready? found more than half of 18 to 25 year-olds in the workforce or as many as 54% of Generation Z workers, which constituted 41% of the entire global workforce, were planning to quit their job.
In more recent report, Great Expectations: Making Hybrid Work Work, Microsoft refers to the phenomenon as the Great Reshuffle, saying that number increased to 43%. A record 52% of workers under 41, the Gen Z and millennials, said they might look for another job. Similarly high, despite being significantly lower, a total of 35% of the older Gen Xers and baby boomers said they were planning to switch careers.
COVID-19 forced employees into working from home and turned companies remote and hybrid working converts (willing or not) - 51% of the hybrid workers said they wanted to switch jobs to one that allows fully remote working, while 57% of those who worked fully from home said they might consider switching to hybrid working.
Half the companies participating in the survey said they already felt the need for full-time in-person work in the year ahead. However, a staggering 74% of middle managers also said they did not have the influence or resources to keep their employees happy and productive, which showed they were not ready to keep their employees committed to full-time in-person working. Strikingly, 54% of the upper management individuals said the same.
Remote and hybrid working are not challenge-free: many employees have come to realise that difficulty in communications during working from home, compared to working in the office, can hinder productivity.
When it comes to new communication realms like the metaverse, Microsoft's other survey, Worker Trend Index, found 47% of workers were fine with appearing in virtual meetings as a metaverse avatar.
About 13% of the respondents, however, had no idea what the metaverse was - so this option is hardly a viable alternative to on-site working.
For now.