Climeworks on carbon capture, emissions & the world economy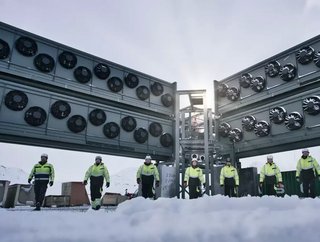 Switz carbon capture company Climeworks could capture 1% of CO2 emissions in 2025. Now the company is calling on the global economy in to get involved
Climate scientists agree that by 2050, direct air capture needs to remove between 5 and 30 billion tonnes of CO2 annually, if we want to achieve net zero emissions globally. 
To reach this level of carbon dioxide removal, direct air capture needs to be scaled up significantly, starting today.
To restore a healthy balance of CO2 in the atmosphere, pure carbon dioxide removal solutions are needed at large scale – enter Climeworks. The company offers accessible, permanent and fully measurable CO2 removal. 
Construction is near completion on Orca, Climeworks' new direct air capture plant in Iceland. Orca will take carbon dioxide removal to the next level: it combines Climeworks' direct air capture technology with the underground storage of carbon dioxide provided by Carbfix on a much larger scale than ever before, capturing 4,000 tonnes of CO2 per year.
Sustainability caught up with the Climeworks team, who are headquartered in Zurich, Switzerland.
Carbon Capture absorbs carbon emissions from the air. Does this mean that we can freely keep producing it?
Unfortunately, no. Multiple climate studies (IPCC Special Report, EASAC, NAS) clearly state that in order to limit global warming to 1.5°C, not only do we need to do everything we can to reduce emissions; we also need to actively remove historic carbon dioxide from the atmosphere. 
Is storing CO2 in the ground going to cause environmental problems in the future? 
No, the carbon dioxide turns to stone through a process of mineralisation. So there is no risk of it escaping into the atmosphere in the future. Our Icelandic partner Carbfix has demonstrated that over 95% of CO2 captured and injected at Hellisheidi Geothermal Power Plant is mineralized within two years. The remaining 5% turns into stone shortly thereafter.
Are there any health risks for your employees in working so closely with carbon?
No, there is no direct risk from working close to carbon dioxide. It's in the air all around us, and our filters collect it safely and then it is stored safely and permanently underground. 
What has been the response from businesses who have brought your captured CO2?
The response is very positive and more and more businesses are signing up all the time. We are already working with large companies like Shopify and Microsoft to help them remove their historic carbon emissions and we have an ambitious scale-up plan to bring more companies on board and remove even more CO2.



Climeworks aims to capture 1% of CO2 emissions in 2025. This is a small target - is Carbon Capture really viable?
The Climeworks technology has been commercially operational since 2017. We have successfully scaled our solution to industrial size. We have a detailed scale-up roadmap in place and want to move into volume production in the coming years. 
For example, just one CO2 collector has a nominal CO2 capture capacity of approx. 50 tonnes of carbon dioxide per year. This is equivalent to the annual emissions of 40 cars (one average car emits 1.2t/year).
To do so, you will need the support of the global economy. What has been their response? 
More and more world leaders are recognising the importance of both reducing our carbon emissions and removing historic emissions. Action from governments has been slower than we would all like, but everything has to start somewhere, and finally the world is taking action, individuals and companies are taking action, and the technology has been proven and is scaling. For example, once Climeworks' Orca plant in Iceland is completed it will capture over 4,000 tonnes of CO2 every year.