Day One of Sustainability LIVE London: Who is speaking?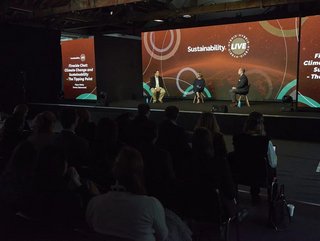 Today is day one of Sustainability LIVE, we take a look at some of the speakers who will be sharing their insights and thoughts on hot topics
On the opening day of Sustainability LIVE speakers and leaders from across the world are gathering in London to network, share insights and advice on creating greener and more sustainable companies.
The event includes inspiring keynotes and lively roundtables alongside fireside discussions and Q&A sessions from some of the world's largest companies and innovative start-ups.

We take a look at some of the speakers who will be taking to the stages on day one.
Who can you see on Stage One?
10:00 AM - Driving Sustainability at JLL - Richard Battern is the Chief Sustainability Officer for JLL, responsible for the strategy, delivery and public reporting of JLL's corporate sustainability programme. Ranked in 2022 as one of the world's top ten CSOs, Richard is an advisor on the SBTi Net Zero Expert Advisory Group and sits on the Bloomberg Green Council, representing JLL's efforts to drive climate action in the built environment.
10:30 AM - Our Fastest Route to Sustainability - Steve Smith, Head of Global Marketing: Energy Management Thought Leadership and Communications at Schneider Electric is taking to the stage to dive deeper into the role of energy in solving the climate challenge.
1:00 PM - Green Shipping - Can We Get There? - Øistein Jensen is Chief Sustainability Officer at Odfjell SE. According to stats, shipping accounts for 2% of global CO2 emissions, a number that will increase as demand for transportation increases. In this presentation, Jensen will present challenges and opportunities of climate risk and shipping transition, and also present Odfjells decarbonisation journey.
Who can you see on Stage Two?
10:00 AM - Our Modern Future - Courtney Holm, Capgemini Invent UK's Vice President of Sustainability Solutions, will be examining solutions for how we transition to a modern society. It will explore focusing on impact through causality, scaling through technology, prioritising adaptation over resilience and using cross sector collaboration as a means to systemic shifts.
12:00 PM - Partnering for Impact - Mary Child is Sustainability Manager for the UK and Republic of Ireland (ROI) at Nespresso. In this session, Child will explore the crucial role that collaboration with like-minded organisations has played in maximising the impact of sustainability initiatives – from the Nespresso AAA Sustainable Quality Program™, which involves 140,000 farmers across the world, through to the UK's first industry-wide coffee capsule recycling scheme, Podback.
2:00 PM - How Marketing Will Save The Planet: Women in Sustainability - Sue Fennessy, Founder and CEO of WeAre8, will share her mission and vision that sits beneath The People's Platform that is uniting millions of brands and people to solve the world's biggest problems. She will also introduce WeAre8's 'Sustainable Ad Manager' (SAM-i), which is delivering transformational results for advertisers while making a measurable impact.