Empowering the next generation of sustainability innovators
By Professor Sir Richard Friend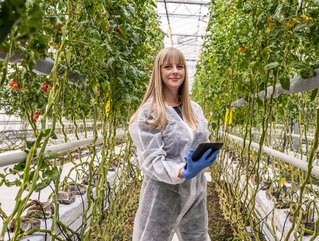 Professor Sir Richard Friend from the University of Cambridge celebrates the achievements of scientists and the reduction in barriers to STEM subjects
"The future of humanity and indeed all life on Earth depends on us."
Sir David Attenborough couldn't have put it better. Tackling the climate crisis and building a more sustainable world depends on our sense of collective responsibility and our actions.
While there is growing attention on climate issues thanks to broadcasters like Attenborough and activists such as Greta Thunberg, more needs to be done. The last seven years were the hottest ever, according to the European climate agency, with record amounts of carbon dioxide in the atmosphere and other greenhouse gases such as methane surging "very substantially."
Scientists have a critical role to play in helping to understand the impact of climate change and reversing or slowing some of its effects.
However, we need more groundbreaking research and scientific breakthroughs to happen more quickly. We need to actively encourage the next generation's brightest minds to turn their attention to sustainability. This is because advancements in climate science continue to depend on individual creativity and endeavour.
There are two steps we need to take to ensure our brightest minds are empowered to tackle sustainability issues. These are encapsulated by the VinFuture Prize, a global awards ceremony set up in Vietnam last year pledging US$4.5mn to rewarding breakthrough scientific research and innovation, which I'm delighted to be involved in as a member of the judging panel.
The first is about ensuring that we celebrate scientific achievement which improves millions of lives around the world. The second is about broadening access and preventing scientists from underrepresented groups and nationalities being excluded.
Celebrating scientific achievement
The Oscar-nominated comedy, "Don't Look Up", satirises attitudes towards climate scientists.
The plot revolves around two researchers trying to warn the world of impending disaster but finding that their message drowned out by pop culture and trivial news stories. It's only when one of the scientists embraces celebrity culture that journalists start to pay attention.
While the film exaggerates levels of societal ignorance, it contains several important truths about our attitudes towards science and technology. We don't do enough to celebrate scientific achievement and establish role models for young people interested in STEM.
The Covid-19 pandemic could mark a turning point. It has shown how scientific innovation, such as the development of vaccines, can affect every one of us and has elevated epidemiologists to unprecedented prominence.
It was particularly inspiring to see the celebration of Professor Sarah Gilbert and her team at the University of Oxford, whose invention of the AstraZeneca vaccine has been so important in saving lives and forming a pathway out of the cycle of lockdowns and restrictions. Many around the world will have been inspired by Dr Gilbert's work.
We must continue the momentum. As the world leaves the pandemic behind, we can't afford to lose focus on the critical role that scientists can play in tackling other global problems, such as the climate crisis.
Awards ceremonies have a role to play in recognising individuals who have improved millions of lives across the world through their creativity and hard work. These help to incentivise scientific breakthroughs and establish role models.
Academic institutions, too, can help to ensure that groundbreaking research and innovation is publicised appropriately and made accessible to all through marketing and communications departments.
Broadening access
Across the world, brilliant female scientists are leading the way in advancing human progress and tackling global problems.
Professor Zhenan Bao at Stanford University has pioneered the development of electronics with the sensing properties of human skin. Professor Quarraisha Abdool Karim at KwaZulu-Natal University has been responsible for groundbreaking research on HIV prevention in South Africa. And Professor Katalin Kariko at the University of Pennsylvania has been pivotal to the Covid-19 response through her work on the Pfizer mRNA vaccine.
Yet women remain underrepresented in STEM and barriers to progress persist. For instance, there wasn't a single female winner in the Nobel Prize scientific categories last year. Women make up less than a quarter of the STEM workforce and, in the UK, just 16% of engineering graduates.
There are steps we can take. One is publicly recognising and celebrating female scientists through awards such as the VinFuture Special Prize for Women, rewarding innovation and helping to establish role models for young women.
The second is about schools and universities doing more to support female students who show interest and potential in STEM, ensuring they receive the right support and are exposed to opportunities such as mentoring programmes and university open days. Educational and research opportunities are vital across the whole world. International collaboration between universities and governments can help to address this, which can avoid a Western-centric approach to solving problems and draw instead on diverse perspectives, valuing those with local knowledge and intelligence on the direct effects of climate change.
Empowerment rests on recognition
Responding to the climate crisis is arguably the biggest challenge ahead for humanity.
Understanding and reversing its effects depends in large part on our ability to inspire future generations. That's why it's so important that we energise young people in focusing their attention on sustainability and making a positive difference in the world.
We can only do that by recognising and celebrating those responsible for scientific advancements and removing structural barriers to scientists from underrepresented groups.