How digital platforms are reshaping the green tech sector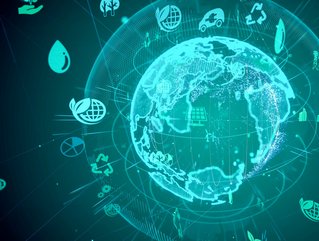 Digital technologies and sustainability are now inextricably linked as IoT, analytics, and measurements become increasingly vital to business operations
Digital technologies are now being deployed to examine and monitor progress toward sustainability goals, enhancing resource efficiency, minimising greenhouse gas emissions, and enabling a circular economy through regenerative business practices.
Moreover, digital technologies also facilitate cooperation and innovation.
Some of the important tools making the next round of sustainability solutions possible include artificial intelligence (AI) in design, additive manufacturing, and digital twins. Visualisations produced through the latter can help tackle sustainability in built environments.
Sensors powered by the Internet of Things, blockchain-based verification, data-sharing portals, and gamified apps are all instances of technologies allowing cooperation across the value chain and coordinating stakeholders on shared metrics and objectives.
Companies using green tech to achieve sustainability goals
A 10th of those polled by Bain & Company and the World Economic Forum believe digital technologies pose a threat to sustainability. They are particularly concerned about the implications for healthy lifestyle choices, data protection, future skills, and equality and diversity.
However, the survey, which has 400 executive respondents from diverse companies and territories, also shows 40% of participants think digital technologies are already showing a positive influence on their sustainability agenda.
The example of Grupo Bimbo, a US$16.6 billion baking firm that integrated analytics tools, machine learning, frontline input, and continuous feedback to improve ineffective purchasing and minimise waste, also demonstrates the correlation between measurement, optimisation, augmentation, and waste reduction.
To actually achieve progress in their sustainability targets, organisations must guarantee they can measure their influence in areas like CO2 emissions.
Olam International, a global agribusiness with almost US$27 billion in annual revenue, launched AtSource, a revolutionary digital sustainability platform, three years ago to enable the agriculture sector to satisfy its specific goals of lowering greenhouse gas emissions, reducing waste, and improving farmer livelihoods.
AtSource enables customers to track the origin of their products, evaluates the social and environmental impact of supply chains, and offers insight on how to improve them for the better. With this data, firms can implement methods and algorithms to streamline operations to reduce environmental impact and establish the groundwork for circular business models that help cut waste in the economy.
Customers can track the route of more than 20 components from source to manufacturing over more than 60 supply chains, and in many cases, they can track commodities to specific groups of farmers, measuring the environmental impact of a single crop by volume, origin, and location.
• Join global business leaders and sustainability experts taking meaningful action at Sustainability LIVE, held at Tobacco Dock, London, 23-24 February 2022. Register to attend today! Click here to learn more.