Sustainability LIVE lines up tech and recruitment sponsors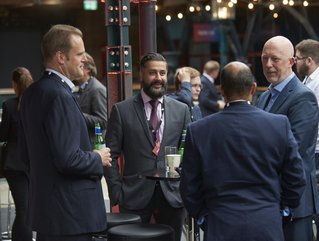 The hybrid event will soon begin at Tobacco Dock, London, Sustainability LIVE is sponsored by the recruitment specialist, IAC, and business tech firm, SAP
This time next week, Sustainability LIVE will be in full flow and speakers from across the globe will have descended on Tobacco Dock, London, to discuss major sustainability topics and provide business insights to attendees from all over the world.

With the upcoming event almost here, BizClik Media Group has welcomed various speakers and sponsors from different industries, including SAP and IAC.
SAP is a leader in sustainable software development
As a leading technology firm, SAP provides software solutions for business activities. Through its latest software developments, SAP offers enterprises the ability to be sustainable without compromising on profitability.

From supply chain management and human resources to the insights and applications of financial data, SAP promotes responsibility through its products and its five actions for sustainability, which involve:
Establishing a business strategy for sustainability
Embedding sustainability data into all networks and processes
Gaining insight into and managing climate impact and carbon contribution throughout the business
Becoming regenerative and leading a circular economy
Understanding the importance of people in the value chain
Sustainability is paramount for finding the right talent
As a trusted partner of some of the world's largest brands and most significant startups, IAC is centred around corporate governance, providing human resources expertise to organisations across EMEA, APAC, and the Americas. Holding the business accountable for its societal impact, the firm commits to outstanding service and is committed to the sustainable future of business.

The group lives by its core values of professionalism, honesty, and teamwork, while specialising in various aspects of recruitment, including Sustainability/ESG, Internal Audit, Risk & Compliance, Professional Services & External Audit, Tech Assurance and Executive Search.

Media Partner: ISCEA
ISCEA was the first organisation certifying supply chain managers around the globe, and it remains the worldwide authoritative resource for supply chain career development with thousands of certificate holders commanding top-tier salaries. ISCEA is a global institution that promotes supply chain knowledge worldwide for manufacturing, service, and health industry professionals. ISCEA is the developer of the Internationally recognised programmes; Certified Supply Chain Analyst (CSCA), Certified Supply Chain Manager (CSCM), Certified HealthCare Supply Chain Analyst (CHSCA), Certified Lean Master (CLM), Certified BlockChain Supply Chain Professional (CBSCP), Certified Supply Chain Technology Professional (CSCTP), Certified Professional in Logistics Management (CPLM), Certified Demand Driven Planner (CDDP), Certified Sustainable Supply Chain Professional (CSSCP), and others. ISCEA is the governing body for the Ptak Prize. ISCEA members hold mid-to-upper supply chain management positions in Global 2000 companies.
Sign up for Sustainability LIVE!
To find out more about Sustainability LIVE and keep up to date with the latest speaker and sponsor announcements, click here.
For more sustainability content, check out the latest issue of Sustainability Magazine.